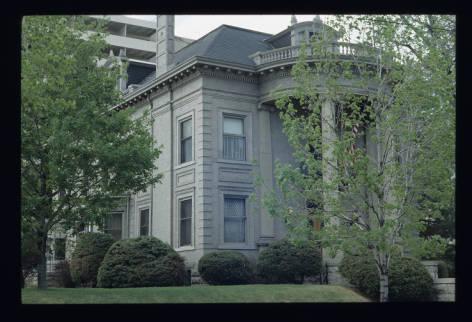 This Old House: Denver's Adolph Zang Mansion
At 709 Clarkson Street sits a brick and stone Neo-Classical Revival mansion that once belonged to brewery magnate Adolph Zang (1856-1916).
Denver currently enjoys a reputation as ​a ​craft brewing hotspot, but beer has been part of its industry for many years. Adolph Zang's father, Phillip, bought the Rocky Mountain Brewery around 1869. Adolph and his wife, Minnie, moved to Denver in 1882, when Adolph took over management of his father's brewery. Adolph turned the Zang Brewery into one of the most successful breweries west of the Mississippi River. An English syndicate bought the business in 1889, but Adolph continued to manage it until his retirement in 1913.
The Adolph Zang Mansion was designed by architect Frederick Carl Eberley (1844-1915) and completed in 1903. Eberley was the architect of several early buildings in Denver​,​ including the Barth Hotel (17th and Blake) and much of the Tivoli Brewery complex (10th and Larimer).
Adolph Zang's​ 38-room home boasted a ladies' sitting room with a pastel Parisian canvas ceiling, a third-floor ballroom with white birch floors, and a dining room illuminated by a gold leaf ceiling and Tiffany chandelier. Another highlight? Seven painted glass windows in the home were created by an artist named Brandt, who completed windows in New York City's famed St. Patrick's Cathedral. 
Curious about the history of more Denver homes? Perhaps even your own?
Check out DPL's Building & Neighborhood History Collection in the Western History/Genealogy Department (5th Floor, Central Library) ​and​ online! This collection contains a wealth of resources for researching the history of Denver buildings, neighborhoods, and architectural styles. Included are early building permits, real estate and fire insurance atlases, and directories.