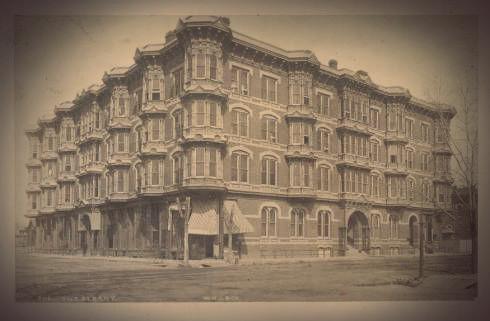 Denver's Albany Hotel (1885-1976)
In 1882, architect E. P. Brink described plans for a Denver hotel that would combine a traditional American hotel with "a system of palatial French flats." On the site of a croquet field at 17th and Stout Streets, the hotel was built and opened as the Albany Hotel (named after hotelier W. H. Cox's hometown of Albany, New York) in July 1885. Appealing to those reaping the benefits of a Colorado mining boom, the hotel was decorated in the style of the elegant 1880s with Persian velvet covering the floors and bronze peacock screens guarding the fireplaces.
The Albany Hotel would go on to host several major events, including the National Elks Convention in 1906 (in which a large bull elk was stabled in the hotel lobby) and the Democratic National Convention in 1908. Wild West Show stars Annie Oakley, Johnny Baker, and William F. "Buffalo Bill" Cody stayed at the establishment while playing Denver and hotel manager Frank Dutton soon befriended Cody. Personal mementos Cody gifted to Dutton were put on display in the hotel's Buffalo Bill Bar.
In 1938, the New Albany Hotel reopened after a major design overhaul orchestrated by architect Burnham Hoyt and closed for good on August 27, 1976. Demolition of the hotel building began on November 17, 1976, to make way for Urban Center I, a 29-story office building with adjoining plaza.
Learn more about the Albany Hotel's story by visiting DPL's Western History and Genealogy Department online or in person. Explore the books, photographs, newspaper articles, and menus that bring this hotel back to life!