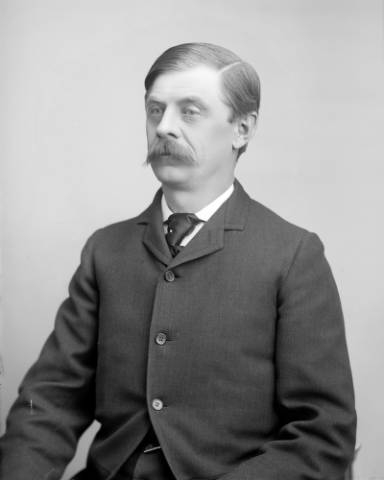 Last week, I wrote about Russell Hunter's paranormal experiences while renting a Denver home near Cheesman Park in the late 1960s. These experiences became the basis for a 1980 Hollywood horror film called The Changeling.
This week, it's time to fact-check this ghost story! Using genealogy and house history tools available on DPL computers and in the Western History and Genealogy Department, we were able to track down a few surprising tidbits.
1. Did Russell Hunter, writer of The Changeling, really live in the "haunted" house at 1739 East 13th Avenue for two years in the late 1960s?
We'll have to take Hunter's word that he actually rented the home.
Denver city directories and telephone books cannot confirm that Hunter lived in Denver at 1739 East 13th Avenue in the late 1960s. Hunter said in interviews that he moved to Colorado from New York City in the 1960s to help his parents manage the Three Birches Lodge in Boulder. According to Boulder city directories, Pearl E. and Russell H. Ellis managed the Three Birches Lodge in the 1960s. Despite their "Ellis" surname, these were in fact Russell Hunter's parents. "Russell Hunter" was born "Russell Ellis" and presumably made a name change for his career in show business. This name change is substantiated in the 1930 U.S. Census and the Social Security Death Index (both available in Ancestry Library Edition - available for FREE on DPL computers!).
2. In the attic of the 13th Avenue home, Russell Hunter claimed to have discovered a trunk containing "a nine-year-old's schoolbooks and journal from a century ago." The journal detailed the life of a disabled boy who was kept in isolation on the third floor of the house by his parents. Later, Hunter said a séance revealed the spirit of a deceased boy lurking in the home. Did any children live in the house at 1739 East 13th Avenue at the turn of the 20th century?
At the turn of the century, a childless couple lived in the home at 1739 E. 13th Avenue.
The couple, Henry Treat Rogers, a prominent lawyer (1837-1922), and his wife Kate Rogers (1865-1931) filed a permit with the City of Denver in July 1892 to build a "brick dwelling" in the Wymans Addition of Denver. Architect Henry Ten Eyck Wendell designed the home.
Though the couple did not have children, they did have a niece and nephew who spent time living in their home.
The niece, Frances Clarke Ristine (1881-1934), came from Illinois to live with the Rogers when she was 10 years old and stayed until her marriage to George Ristine. After living in Chicago for several years, Frances and her husband returned to Denver after the death of her uncle, Henry Treat Rogers, in 1922, and lived in the 13th Avenue house with Kate (who formally adopted Frances as her daughter around 1927). Frances became the longtime secretary for Denver Orphans Home and the president of the Globeville Day Nursery while living in Denver. She inherited 1739 E. 13th Avenue and a small fortune after the death of Kate Rogers in 1931. Frances Clarke Ristine died in 1934.
The nephew, Henry Treat Rogers II (1892-1918), graduated from Yale in 1914 and came to work in his uncle's law firm, Rogers, Ellis & Johnson, around 1916. This younger Henry Treat Rogers also lived in his uncle's house on 13th Avenue, however, he enlisted in World War I in 1917 and never returned to the house. He died in 1918 at the age of 25.
There were conflicting reports about Henry Treat Rogers II's death. While one obituary claimed that he died from physical exhaustion on August 18, 1918, in Cincinnati, another claimed he died in France "from the effects of nervous strain from the close application of his duties." A memorial fund at Yale was established in his name by his uncle, Henry T. Rogers.
Despite what we've learned about the Rogers family, many other mysteries of the house at 1739 East 13th Avenue remain—and the answers may well dwell within the resources available at Denver Public Library!