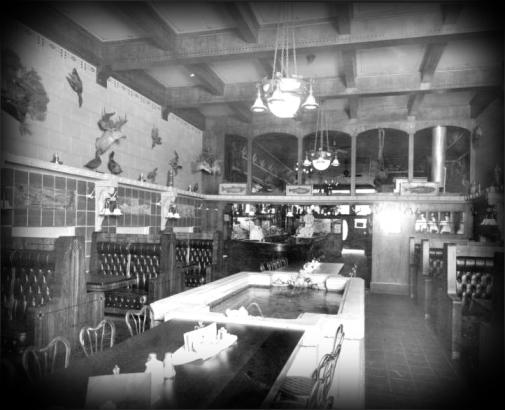 Denver Dining of Yore: The Watrous Bar and Café
In 1909, the Watrous Bar and Café was called "the largest, finest and most completely equipped bar and café in the West" by the newspaper The Denver Republican.
Established in 1887 by Mart H. Watrous (1859-1918), the bar and café was located at 1525-1527 Curtis Street—today, the site of a parking lot. The place had a reputation for wines and liquors "of known purity and of highest grade" (unlike the cigarette-and-gun-powder whisky Kellen recently blogged about), and its 1906 menu featured 11 types of whisky and six varieties of beer. The Watrous' large menu boasted fine foods such as oysters, lobsters, and chops, as well as mallard duck cooked to order, limburger cheese sandwiches, and imported frankfurters.
Of its polished hardwoods and mirrored walls, the Republican remarked, "Everything is suggestive of costly luxury."  This luxury was meant to cater to customers of means—and more specifically, male customers. The establishment was described in 1909 as being "exclusively for gentleman."
The Watrous Bar and Café, however, was home to some rather ungentlemanly behavior. On February 11, 1899, roadhouse owner Joseph "Rowdy Jo" Lowe was shot and killed at the Watrous Bar and Café.
Of the incident, it has been said that on the evening of February 11, Lowe drove into the city from his roadhouse and left his horses hitched without blankets in single-digit temperatures. The animals were taken to a stable by policemen while Lowe was reprimanded. Lowe made his way to the Watrous Bar and began loudly criticizing the police department, inciting an argument with Emmanuel A. Kimmel, a former police officer. George Watrous, a bartender at the time, later testified that he saw Kimmel draw a pistol and shoot Lowe several times in the kitchen of the restaurant. Lowe died an hour later. Despite Watrous' testimony, Kimmel was acquitted. George Watrous' scrapbook documenting the case and other high-profile Denver crimes is available for research in DPL's Western History and Genealogy Department (C MSS –M822).
There were, of course, many pleasant things that occurred at the Watrous Bar and Café, too. Mart Watrous established a yearly custom that illustrated the appreciation he had for his employees:
On every New Year's day, the employees conduct the business of the house and are allowed to retain the entire gross receipts of the day, divided in proportion to their salaries and length of service within the year. Last New Year's day [1908] the receipts amounted to $912.25 [which would be the equivalent of around $23,000 in today's money].
After the death of Mart Watrous in 1918, George Watrous became the president of the incorporated eatery. When George died in 1926, the Watrous Bar and Café ceased operations.
Photographs and a menu from the Watrous Bar and Café (Menu Collection, C MSS WH1509) are available for research at DPL's Western History and Genealogy Department.