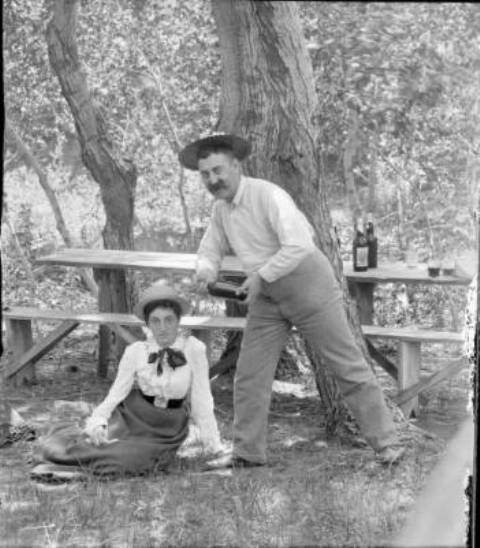 As long as people have been alive on this planet, they have sought to quench their thirst for alcohol. Folks in the Old West were no different. Because there weren't large corporate distilleries in most parts of the country, old time cowboys, miners, homesteaders, and outlaws had to find creative ways to get their drink on.
Bartenders in many Old West outposts got imaginative and invented some the most hair raising concoctions ever created. Here are few historic drinks procured from old Sam Arnold's collection (proprietor of the Fort Restaurant) guaranteed to cure what ails:
Injun Whisky
1 Red Pepper (chili)
2 Cigarettes
Fifth Corn Whisky (Bourbon will do)
(Here's the real kicker!) Few grains of Black Gunpowder (ONLY old-fashioned sulfur, saltpeter, and charcoal type is safe. Never use modern high speed gunpowder which is poisonous!!!)
Make a tea from the pepper and tobacco from the cigarettes by boiling 3 minutes in ½ cup of water. Use the tea to flavor the whisky and then drop in 1/8 teaspoon of the old fashioned gunpowder. Kickback and enjoy!
Chimaja Whiskey
1 T. Chimaja Herb (dried wild celery greens)
1 quart of Bourbon
Add the dried herb directly to the bottle of whiskey. Let it age for a couple of weeks then enjoy! This whisky was traditional in every bar in New Mexico before 1850 and was known as the "stomach saver."
Take a look at the library's photos of historic saloons. If you're not into making your own Frontier Firewater, there are still some great places around that do it Old West style. If you're ever in Aspen saunter into the throwback Justice Snow's and sample any of their 95+ drink concoctions (a true Old West mixologists dream). And if you're ever on the trail in Wyoming, check out the historic Occidental Hotel and Saloon in Buffalo. Teddy Roosevelt, Calamity Jane, Buffalo Bill Cody, and Butch Cassidy all bellied-up to the bar here. Or if you like a little glitz checkout the Million Dollar Cowboy Bar in Jackson, WY. All great places to get a good stiff drink that'll kick your mouth in the gut!