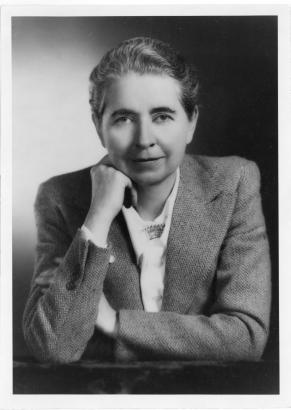 Wild Woman of the West: Author Helen Rich
The Helen Rich Papers (WH348) detail the fascinating life of a woman who started out as a childhood friend of Sinclair Lewis and went on to become a newspaper reporter, traveling freelance writer, social worker, and bestselling authoress.
Helen Rich was born August 9, 1894, in Sauk Centre, Minnesota. She studied to become a teacher, but instead began reporting for a newspaper in Eau Claire, Wisconsin. Soon thereafter, she was incorrectly diagnosed with tuberculosis and moved to Colorado to regain her health. While there, Rich worked as the first female reporter for the Colorado Springs Telegraph.
Rich then traveled across the country as a freelance writer until making her way to France, where she lived until her money ran out. She then spent three years writing in New York City until finally heading west by car with a friend, living out of a tent, and writing articles for business magazines.
In 1937, Rich and retired teacher and author, Belle Turnbull (1882-1970), moved to Frisco, and a few years later, Breckenridge. Here, Rich worked as a social worker handling job placements and welfare payments for the Department of Public Welfare of Summit County. In 1947, Rich's bestselling novel The Spring Begins was published, followed by The Willow Bender in 1950.
Rich retired from her social work position in 1959 and spent the following 10 years working on an novel based upon the Silverheels legend (dancehall girl nurses miners with smallpox until she catches it, loses her looks, and disappears). The novel was never published.
Rich died in Breckenridge on November 14, 1971.
Helen Rich's correspondence, writings, and photographs make up the Helen Rich Papers (WH348), available for research in DPL's Western History and Genealogy Department. Also available are the Belle Turnbull Papers (WH414).