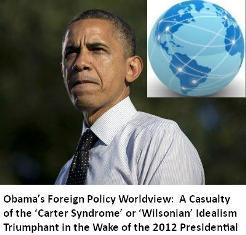 Obama's Foreign Policy Worldview: A Casualty of the 'Carter Syndrome' or 'Wilsonian' Idealist
Saturday, November 10, 2p.m.
Blair-Caldwell African American Research Library
Free and Open to the Public
In a provocative article that appeared in Foreign Policy in 2010, a widely read publication read amongst the foreign policy and diplomatic communities, preeminent historian Walter Russell Mead asserted, in a piece entitled "The Carter Syndrome," that President Obama would suffer from an inability to reconcile his inner Thomas Jeffersonian tendencies with his Woodrow Wilson tendencies and end up like former President Jimmy Carter, a one-term president because of a schizophrenic foreign policy agenda.
Join Professor Derrick Hudson (Colorado School of Mines) and a student panel from Thomas Jefferson High School as they unpack Walter Russell Mead's four 'giants' of American foreign policy: Alexander Hamilton, Woodrow Wilson, Thomas Jefferson, and Andrew Jackson and wrestle with the viability of these worldviews in the 21st century. They will also explore how people of African ancestry in the United States fit into these worldviews, if at all.
Please contact the Blair-Caldwell Library at 720-865-2401 or email blairstaff@denverlibrary.org for more information.