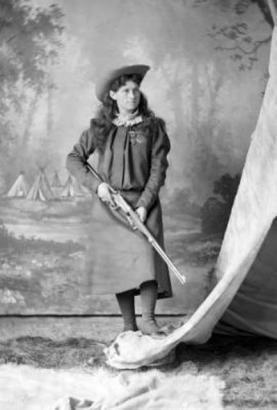 Hit You with the Sure Shot
Born in 1860 in rural Ohio, little Annie Oakley was destined for greatness and eventually became America's first female superstar. Annie's real name was Phoebe Ann Moses. Phoebe, the sixth of seven children, was the daughter of Jacob and Susan Moses who were Quakers of English descent. Jacob died during the War of 1812 from pneumonia and Annie took up shooting and hunting at the age of 8 to support her widowed mother and siblings. Annie sold the game she caught to restaurants and hotels and was soon able to pay off her mother's mortgage. Her reputation as a "sharp shooter" also spread throughout the region.
In 1875 Francis Butler, a traveling show marksman and dog trainer, was performing in Cincinnati, Ohio with his Baughman Butler shooting act when he first encountered 15 year old Annie. Butler wagered $100 that he could beat any "local fancy shooter" in a competition and cool, confident Annie took the bet. She shocked the small crowd watching the contest as she narrowly bested Butler. Amazed by her skill and charm, Butler began courting Annie and soon after they were married.
After living in Cincinnati for a time, Annie adopted the stage name Oakley. Through Frank's connections and Annie's awesome skill the duo joined Buffalo Bill's Wild West Show in 1885. Because of her ability with a rifle Annie was nicknamed "Watanya Cicilla" by fellow performer and great Sioux Chief, Sitting Bull. The name roughly translated to "Little Sure Shot" and the nickname was plastered all over Wild West Show programs and promotional material. Throughout her lifetime, Annie Oakley performed for Presidents and foreign royalty. She rivaled Buffalo Bill in popularity during the height of the Wild West Show and she was inducted into the National Cowgirl Museum and Hall of Fame. Oakley died in 1926 at the age of 66. Checkout the libraries photos of the Little Sure Shot here and watch the video of Annie's shooting skill.