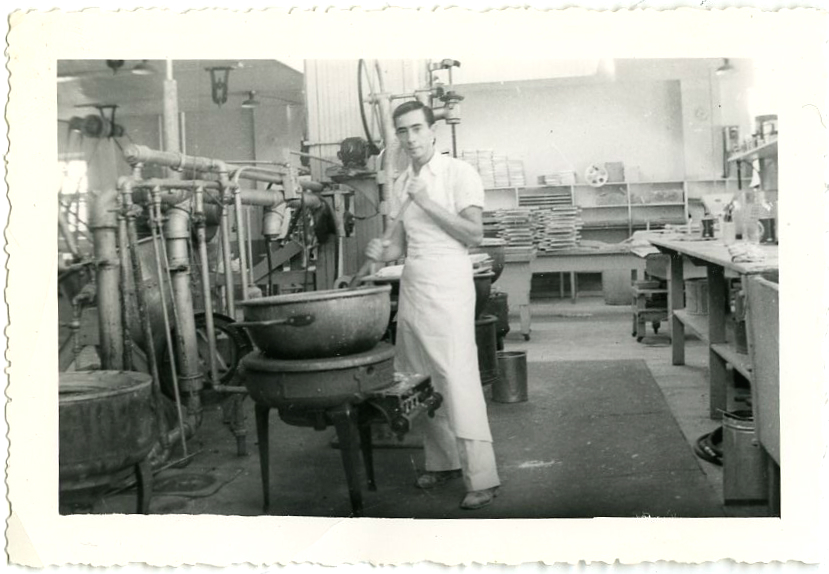 One of the more unconventional items in the Western History & Genealogy Department's archives is the recipe notebook of Sol H. Burke (1907-1974), a candymaker who was employed at Baur's Candy Company in Denver. Included in the notebook are recipes for favorites like taffy, caramel corn, and peanut brittle as well as unusual treats including chocolate-dipped apricot, almond, and orange candies (called "Alcots") and a drink concoction known as "Egg Lemonade." As the notebook dates from 1942, some recipes are noted as being "war batches." Sugar rationing during World War II not only affected household kitchens, but also limited the amount of sugar confectionaries could purchase. Recipes were tweaked with substitutions to make sugar go further.
The O. P. Baur Confectionary Company was founded by German immigrant Otto P. Baur in the early 1870s. Initially a confectionary and ice cream parlor located on Curtis Street, the company expanded into the restaurant business during the 1940s and 1950s. By the late 1960s, the company fell into financial trouble, and the original store at 1512 Curtis Street shut its doors in January 1970. Although you can no longer pop down to Baur's for a bag of Rum Crystal Cuts (hard candies, that is), these classic recipes live on at WHG in the Baur's recipe collection (-M2076).
That's pretty great, Jacki! We've got a Bauer's recipe notebook and marvel at the recipes that call for 100 pounds of sugar and just a few drops of flavoring. It was a precision operation!
Otto P Baur is an ancestor of mine. I have heard stories of his confectionery and ice cream parlor as I was growing up. The story I heard was that it was likely that the first ice cream float was developed at Baurs.
I would LOVE to have copies of the recipe books for my family.
We aren't allowed in the buildings at the moment due to COVID-19, but once we are, we would be happy to provide you with copies! You can make the request through our contact page (link in the top right). Thanks for reading!
My husbands uncle was a candy maker there !
Small world !! you if interested you can reach out to us??
Thanks for sharing that, Doug. We'll have to check it out!
Hi Sheila,
Thanks for letting us know about the link -- it has been updated now. Please note that this notebook has not been digitized. We are currently closed to the public, but you may request scans through our Contact page (see upper right-hand corner of this page). Thank you!
Add new comment