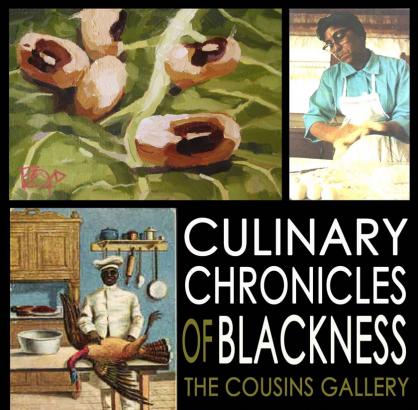 Exhibit: Culinary Chronicles of Blackness Returns For The Second Year
The Exhibit Culinary Chronicles of Blackness will be available for viewing from July 8 - July 31 in the Cousins Gallery – Level 3.
Join the experience….One of the most successful exhibits of 2012, the exhibit Culinary Chronicles of Blackness returns to Blair-Caldwell Library. Culinary Chronicles of Blackness explores the history and culinary DNA of black culture and The African Diaspora. Culinary Chronicles of Blackness is curated by Art Blaque and features various artists and mediums.
Opening reception: Saturday, July 20th at 1:00p
Inspiration behind the creation of the exhibit…Curator holly. kai
"Our Culinary Chronicles of Blackness are our memories:  The cantaloupe I ate regularly at my Grandmother's kitchen table, or the 7-Up cake I can still taste at the family reunion of 1986 in Fort Worth, Texas! It's eating black-eyed peas on New Years, the elder ladies on Sunday cookin' some random savory meal in the church basement; it's the stereotypes we have the ability and RESPONSability to reclaim;  it IS Sunday dinner it's even our Ancestors home remedies. Our Culinary Chronicles hold the reputations and stories of some of our famous family members: We all have a family member who's reputation is attached to their special dish because it was just that good. Culinary skill sustained many of us during hard times: Selling fish dinners from our house, providing work for us after emancipation. Regardless of how we feel about it working as domestics, cooks and even Pullman porters helped many make a living though many held degrees in other fields.
In planning the exhibit, I just couldn't get away from the idea of calling on many culinary artists and community cooks I knew to provide a 2nd component to the exhibit.  Not only the art, but the culinary art. It had to be a community tasting of sorts and the day of the exhibit proved all was as it should be, glorious: The artists remained open minded and in the end produced a stellar body of work though it was outside many of their regular subject matter. A community of cooks gathered and shared dishes from across the diaspora of black cuisine, and each of them "put their foot in it" as we say. Brazilian, Ethiopian, Southern, Vegan, Vegetarian, Barbecue, ginger coleslaw, rum cake, Chicken a million ways, cherry pie and Ms. Simone's now famous corn puddin', it was a spiritual experience and the morning after my taste buds begged for more. My own Culinary Chronicles led me on a whole other journey that I am still on."
For more information about the Culinary Chronicles of Blackness Exhibit, a complete schedule of events or to submit art work, cookbooks or other historical culinary related creations, please contact Art Blaque at artblaque@gmail.com or call 720-364-4492.
You can find them on Facebook under Art Blaque, Curator.