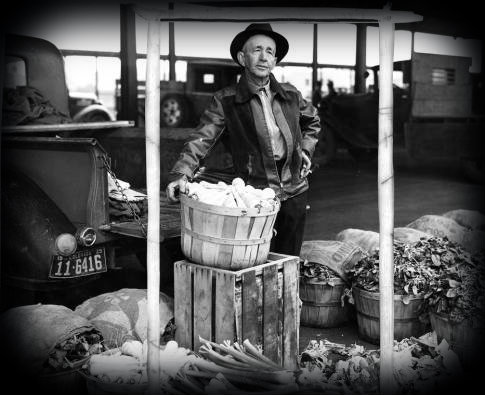 Long before the era of King Soopers and Whole Foods, stagecoaches and ox-drawn wagons hauled produce to the Denver area. As a result, Denver's earliest consumers endured high prices. A pineapple was rumored to sell for $7 and a single apple could cost $1.25!
As Denver's population grew, more sellers and more goods rolled into town. By 1883, three curb markets on Fourteenth Street, Lawrence Street, and Welton Street were established by city ordinance. A permanent market (Barth Market) was set up at 23rd and California Street, but by 1899 it was moved to the west bank of Cherry Creek, north of West Colfax Avenue. Despite lacking railroad access, this was the center of Denver's local produce trade for nearly 40 years.
By 1938, the City of Denver looked to relocate the Cherry Creek market to Jerome Park (West 8th Avenue and Osage Street), but their plan failed as the site's location was deemed inaccessible to northern Colorado growers. Two other sites were favored by Denver's business community due to their adjacency to railroad tracks. Although it was believed the growing city of Denver could only support one market, both sites became successful city markets.
The Denver Market & Produce Terminal, Inc. built the Wazee Market at a cost of $1 million on a historic Auraria site that extended between 9th and 13th Streets along Wazee Street. The Wazee Market had four large produce buildings containing 27 store units, four sheds that accommodated 248 growers' stalls, and what was hailed as "the most modern banana handling plant in the country." The market opened on Colorado Day, August 1, 1939, and was serviced by five railroad systems. After World War II, the market expanded to include the sale of refrigeration equipment, furniture, radios, shoes, and clothing. Shortly after the Denver Urban Renewal Authority purchased the five-block Wazee Market for $2.7 million in 1974, it was demolished.
The second market, Denargo Market, was built by the Growers' Market Association on thirty acres of land at 29th Street and Broadway. The Denargo Market had access to the Union Pacific railway and boasted 504 growers' stalls, an administration building, refrigeration plant, restaurant, and its own barber shop. It opened on May 20, 1939. On July 7, 1971, a four-alarm fire devastated the market. Today, the Denargo Market is the site of a major redevelopment project.
To learn more about the Denver's Wazee and Denargo markets, check out the Western History and Genealogy department's Western History Subject Index, newspapers on microfilm, and digital photo collection.