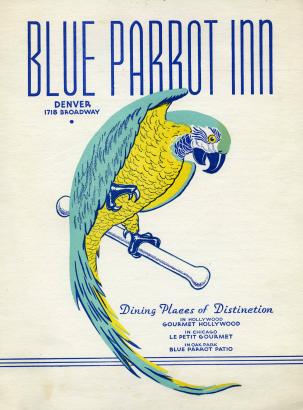 Denver Dining of Yore: Blue Parrot Inn
The Blue Parrot Inn, 1718 Broadway, appeared on the Denver dining scene in the early 1920s (the 1923 Denver city directory is the first to note it). In the late 1920s, Margaret Findeisen (proprietor of Florida's Orange Lantern Inn) and Henrietta Werder (proprietor of a restaurant in Hereford, Colorado, and the Grenada Room in Florida) bought the Blue Parrot Inn while on vacation in Denver after a particularly rough Florida hurricane season. They added Spanish-style room décor to the restaurant in 1928. That same year, Findeisen and Werder reported that business was booming—up 40% from the previous year.
The Great Depression changed the Blue Parrot. Charlot Ellers bought the restaurant sometime around 1930. Then, the restaurant, which once catered to lunching ladies and afternoon teas, began advertising a "Business Men's Steak Luncheon," presumably to drum up more customers. Ellers made music a feature of the restaurant, investing in a state-of-the-art sound system and a collection of 6,000 records in the early 1950s. Ellers operated the Broadway location until it closed in 1953. The building was torn down in 1953 to make way for the 23-story Mile High Tower, designed by I. M. Pei and Henry Cobb.
Perhaps the real stars of the Blue Parrot Inn were, in fact, the parrots. First, there was Mack, an elderly macaw with a habit of cursing in front of customers. Mack died of pneumonia at the age of 83. Minnie, a 14-year old macaw from Trinidad, replaced Mack around 1936. Minnie loved music and would often demand that the song "Forever Blowing Bubbles" be played. At 8pm, a busboy would take Minnie out of her cage. While bringing her through the restaurant to her bedroom quarters, Minnie would say, "Goodnight, goodnight" to diners.
WHG's large menu collection (WH1509) contains several menus from the Blue Parrot Inn along with many other gems.