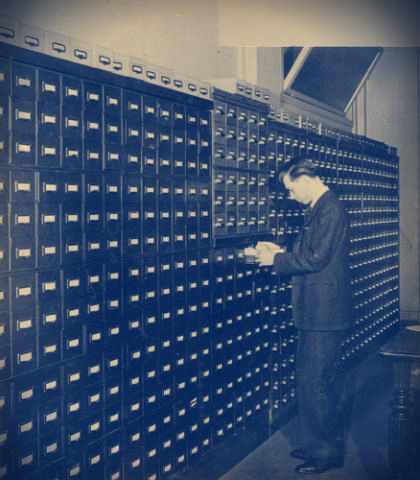 Hooray! You've found the book you need in the Denver Public Library catalog!
Reading the catalog record, you see that the book is located in the Western History and Genealogy Department (on the 5th floor of the Central Library). But wait— the book's shelf location is noted as "closed stacks." What does that mean?
"Closed stacks" are secure, employee-only storage areas. Items located in closed stacks can be "paged" (brought out by employees) when requested.
In the case of closed stack items in DPL's Western History and Genealogy Department (also known as "WHG"), these materials can be requested at the information desk on the 5th Floor of the Central Library.
Once the items are requested and paged, you're ready to check out, right?
Well, actually, no. Closed stack items cannot be checked out. These items are meant to be used in the Western History and Genealogy Department's Mullen Manuscript Room. Before entering this special room, a friendly staff person will provide you with a free locker to secure your belongings, including any backpacks, purses, coats, bags, laptop cases, books, notebooks, pens, drinks, and food, as these items are prohibited in the room for the protection of historical materials.
Whoa, you say. Why all the rules?
Items in WHG's closed stacks are often rare, one-of-a-kind, or fragile. It is the WHG's mission to make sure historical materials are available for generations to come, so items are stored and handled with extra care.
As mentioned before, these items (and all items in the Western History and Genealogy Department, for that matter) are not available for check out. While it may be a bummer that you can't take these materials home, this policy also ensures that these items are always ready and available for you when you visit WHG!