The Denver Public Library honors African American community leaders at the annual Juanita Gray Community Service Awards and biennial Blacks in Colorado Hall of Fame induction ceremony. The event is held at the Blair-Caldwell Library and kicks off the library's celebration of Black History Month.
2020 Juanita Ross Gray Community Service Award Nominees and Winners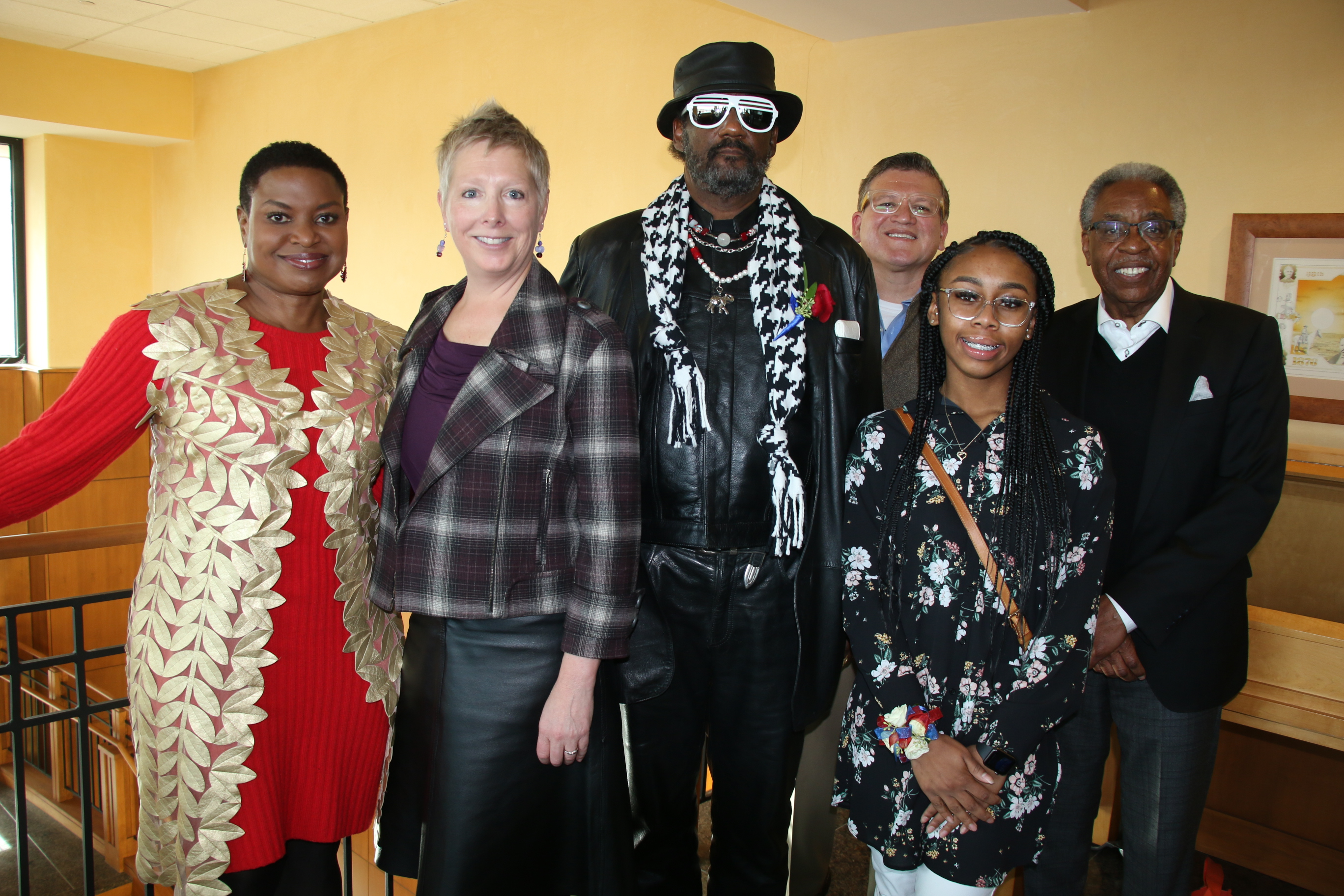 Photo: From left to right, Gloria Neal, Michelle Jeske (City Librarian), Stephan Evans (Chairman Seku), Carlos Martinez (Library Commission-President), Jaidyn C. Fears (2020 Youth Winner), and Chief Roderick A. Juniel. Not Pictured: Rose A. Andom (2020 Winner) and Dr. Everette Freeman.
Winners
Rose A. Andom
A pillar of our community, Rose A. Andom overcame childhood trauma and domestic violence and went on to become a prominent businesswoman in Denver. Thanks to Rose, the Rose Andom Center, which benefits survivors of domestic violence, was completed in 2016. Rose received her Bachelors from the University of Kansas and her MBA from the University of Missouri. After graduation she married and moved to Los Angeles, but her marriage eventually escalated into a violent situation. Rose moved out with all of her belongings. Rose went to work for corporate McDonalds where she spent a long and successful career moving up through the company. Through the many trials and tribulations of her life, Rose evolved into a courageous survivor, confident business woman, and role model of character. Rose makes the world a better place, and we are privileged to honor her. 
Jaidyn C. Fears​, Youth Award 
High School senior Jaidyn C. Fears has already made a name for herself as someone who is committed to serving the community. Jaidyn is a former After School is Cool program assistant at the Pauline Robinson Branch Library in Park Hill, where students adore her. It comes as no surprise that she received the 2016 Mayor's Award for Excellence in Arts and Culture; she shared her experience with the students at the library program. Jaidyn is also the former president of the teen program at the Boys and Girls Club. Throughout her journey, Jaidyn has expressed wanting to pursue a career as a criminal defense lawyer and if focused on giving back to her community. Jaidyn is on the path to a lifetime of service, and we are proud to honor her. 
2020 Blacks in Colorado Hall of Fame Inductee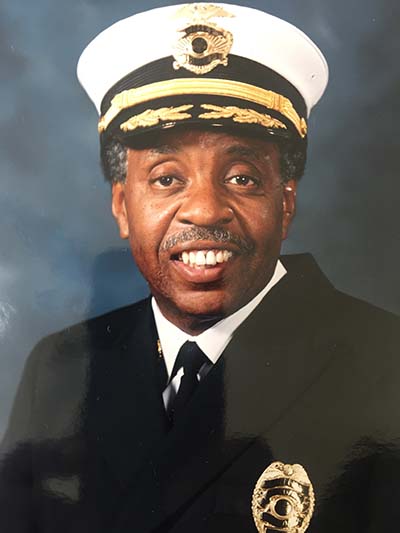 Chief Roderick A. Juniel
As a 29-year veteran of the Denver Fire Department, retired Chief Roderick Juniel served the community and city with dedication and diplomacy. Chief Juniel is a native of Denver and a proud graduate of Manual High. Appointed by Mayor Wellington Webb in 2001, he holds the distinction of being the first African-American to hold the position of Chief of the Denver Fire Department. During his tenure as Chief, Juniel was responsible for managing 950 firefighters and administering a $100 million annual budget. Prior to his appointment, he held numerous leadership positions, including Division Chief: Administration, Aircraft Rescue and Firefighting, Fire Prevention and Investigation, and Operations and Technical Services. Chief Juniel holds awards, honors, and degrees that are too numerous to list, but one of the most prestigious of his recognitions might be the "2003 Father of the Year" award presented by the National Fathers' Day Council. He serves on numerous boards including the New Hope Baptist Church Board of Trustees. Chief Juniel is married to his high school sweetheart, Patricia, and they are the proud parents of two daughters, two grandchildren, and three great-grandchildren. He currently spends most days playing golf and picking up his grandchildren from school. Chief Juniel says that his most fulfilling accomplishment is his family. It is with great pleasure that we induct Chief Roderick Juniel into the Blacks in Colorado Hall of Fame.
About the Awards
Former Denver Public Library staff member and community advocate Juanita Gray helped start the Blacks in Colorado Hall of Fame in 1973 which honors new inductees every other year. Members are Colorado residents who have made an impact on the African American community.
The Hall of Fame honor is bestowed upon a Coloradan who has been the first African American to accomplish a professional goal in their field and/or who has actively supported the African American community while achieving his or her goal.
The Juanita Gray award honors African American men, women and youth who make outstanding contributions to the Denver Metro area and who exemplify the ideals and spirit represented by Gray's commitment to the community. A community-driven committee works with the Library to nominate and select the winner of the award and the Hall of Fame winners.
Previous recipients of the Juanita Ross Gray Community Service Award