The Denver Public Library honors African American community leaders at the annual Juanita Gray Community Service Awards and biennial Blacks in Colorado Hall of Fame induction ceremony. The event is held at the Blair-Caldwell Library and kicks off the library's celebration of Black History Month.
2019 Juanita Ross Gray Community Service Award Nomminees and Winners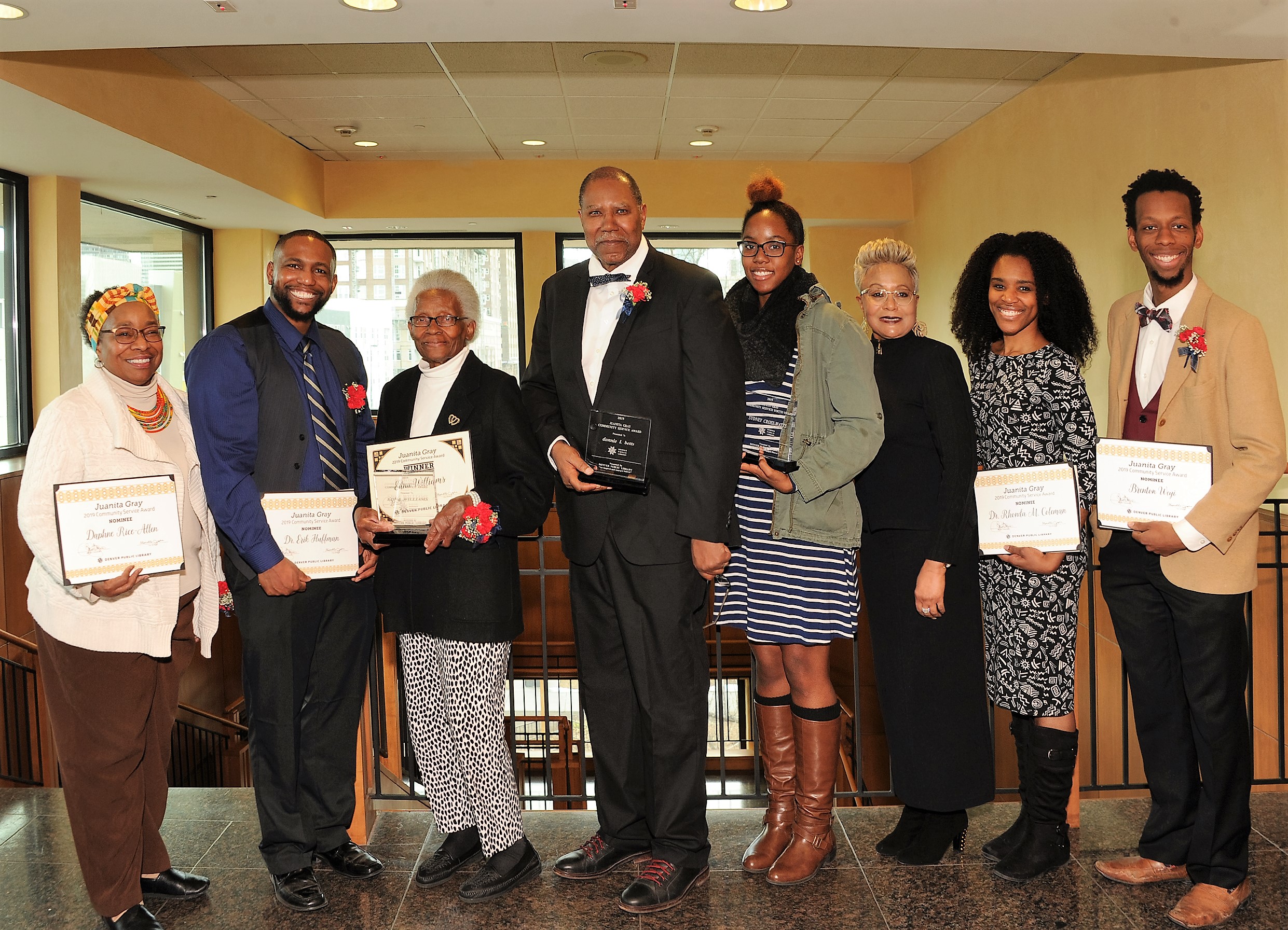 Photo: From left to right, Daphne Rice-Allen, Dr. Erik Huffman, Edna Williams (2019 Winner), donnie I. betts (2019 Winner), Sydney Cross-Watts (2019 Youth Winner), Rose Andom, Dr. Rhonda Michelle Coleman and Brenton Weyi
Winners
Edna Williams​
"Miss Edna" as she is known at the Ford-Warren Branch Library has been volunteering at the branch for more than 20 years.  She has read stories to hundreds, if not thousands of kids over the years.  Currently, Miss Edna volunteers two days a week as well as some outreach events in the community.  For the last five years she has been a part of two weekly storytimes at Ford-Warren Branch Library. Miss Edna is an extraordinary storyteller and reader.  Before and after storytime, she shelves materials at the branch library.  This is no small task for the young, but Miss Edna is 87 years young.  While she is one of the hardest workers, Miss Edna always had time to lend an ear.  She is an empathetic and considerate listener to family, friends and all who are lucky enough to make her acquaintance.  Miss Edna continues to inspire the visitors to the branch as well as so many children, as they become lifelong readers.
donnie l. betts (preferred capitalization)​
donnie l. betts is a founding member of two theater companies in Denver, Colorado: City Stage Ensemble and Denver Black Arts Company. He attended Yale School of Drama.  Mr. betts' credits in theater performance and directing are quite lengthy. His film performance credits include "Switchback" and "Honeydripper,'' both written and directed by John Sayles. His production company, No Credits Productions, produces the award-winning radio drama "Destination Freedom, Black Radio Days," and documentary films including "Music is My Life, Politics My Mistress: The Story of Oscar Brown Jr." This documentary film was screened at over 25 film festivals worldwide and won eleven "Best Documentary" and Audience's Choice Awards and aired on PBS, in addition to stations nationwide. His first film, "Dearfield: The Road Less Traveled" a docudrama about the all-black town in northern Colorado, was nominated for an Emmy and screened on PBS. He won an Emmy for his film "My Voice" a film on spoken word artist/actor Jeff Campbell. His films on Lincoln Hills and Dr. Justina Ford currently air on RMPBS.org.  
Mr. betts is also a skilled facilitator of conversations about race and inclusion in America.  While Mr. betts' contributions to bringing diverse stories to light through theater and film are various, he has also impacted our local community in other ways. For four years, while working at History Colorado Museum, he helped to curate exhibit and multimedia presentations in addition to creating new programs and working with school children across the metro area. His current work with the Center for Advancing Professional Excellence at the CU Anschutz Medical Campus includes expanding their wellness work with the Aurora Police and Fire Departments. He currently produces "The Why" Women of Power TV series streaming on various platforms.
Sydney Cross-Watts​, Youth Award 
Sydney is a 17 year old who is a vibrant, talented teen who has inherited a true passion for community service and volunteerism. Currently a junior at Regis Jesuit High School in Aurora, Colorado, she has always been an exceptional student and continues to embrace what each new school year brings.  She has been on the honor roll at Regis since her freshman year.  She has many talents and interests. Her mother has worked hard to provide opportunities which has allowed her to hone her skills and talents in the areas of basketball, volleyball, cooking and music. She is a very busy young person and stays active with school and her studies, sports, volunteering and various extracurricular activities.  She has served a a facilitator, essay reader and in 2013, led the pledge of the allegiance for the Colorado State House of Representatives.  She has direct ties to the National Council of Negro Women – Denver Section. She continues to serve as an on-call/summer volunteer for the Denver Public Library (Park Hill Branch). Sydney never takes herself too seriously, she has an infectious laugh and inquisitive mind.  She is no doubt on the path to becoming a great leader in her school and community.
2019 Special Blacks in Colorado Hall of Fame Induction (posthumously awarded)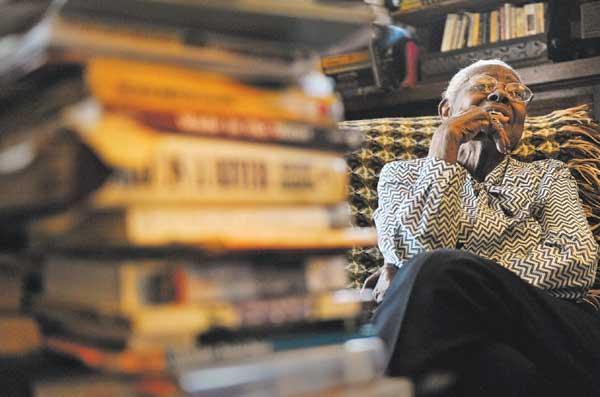 Dr. Jennie Mae Rucker
Dr. Jennie Rucker was a life changer who thrived on encouraging higher education and community service.  Jennie attained several advanced degrees including her Doctorate in Library Sciences from Denver University. She married George Webster Rucker, the first Black pharmacy school graduate from CU-Boulder and went on to open Rucker's Drug Store.  In her professional life, Dr. Rucker was a Denver Public Schools secretary, substitute teacher and a founding faculty member at Community College of Denver. She was extraordinarily proud of her Doctorate degree in Library Science, which was appropriate in her position as outreach librarian at the Denver Public Library.  She retired from the library in 1997.
Dr. Rucker sang in the chorus for the National Negro Opera Company and The Spirituals Projects Choir.  She also sat on the board of the Colorado Historical Society.  She was a Philanthropist, traveling from Africa to South America building schools and financing education for the children she so adored.  She partnered with various organizations allowing her to open the doors of her home to traveling students.  From Egypt to Equador, all were welcomed in her home.  As a Community Leader/Activist, Educator, Patron of the Arts, World Traveler, Missionary, Singer, and life-long student, it would be impossible to encompass all that Dr. Rucker has accomplished.  Based on those accomplishments, she rightly deserves a place in the Blacks in Colorado's Hall of Fame.
About the Awards
Former Denver Public Library staff member and community advocate Juanita Gray helped start the Blacks in Colorado Hall of Fame in 1973 which honors new inductees every other year. Members are Colorado residents who have made an impact on the African American community.
The Hall of Fame honor is bestowed upon a Coloradan who has been the first African American to accomplish a professional goal in their field and/or who has actively supported the African American community while achieving his or her goal.
The Juanita Gray award honors African American men, women and youth who make outstanding contributions to the Denver Metro area and who exemplify the ideals and spirit represented by Gray's commitment to the community. A community-driven committee works with the Library to nominate and select the winner of the award and the Hall of Fame winners.
Previous recipients of the Juanita Ross Gray Community Service Award