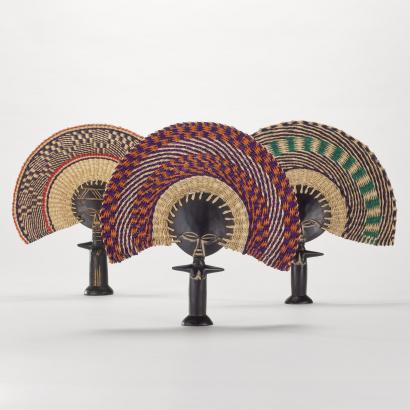 Upcoming Events, Exhibits and New Odds and Ends
Introducing two New Special Interest Classes Available at the Blair-Caldwell Library plus lots more!
Even Wednesday Stitchers
Come socialize with those who understand your desire to create.
Starting June 12th
Date: 2nd & 4th Wednesdays
Time: 6 - 8:00pm
Free and Open to the Public
No Registration Required
Bring your own hand work
Knit, crochet, sew, or any other type
*The Akuaba figure pictured above, from the Ashanti people of Ghana represents creation and fertility.
Genealogy Overview: Searching for Your Roots
Have you ever thought about looking into your family history but you don't know how to get started?
Join us for an Overview to Genealogy Class @ the Blair-Caldwell Library
June 15th @12pm and 2pm
Free and Open to the Public
No Registration Required
Exhibit 'The African Cosmos'
June 10 - 29
Cousins Gallery - Level 3
Features the paintings of emerging artist Jannah Farooque whose work speaks of vibrancy, love and life! Farooque, who began selling her paintings on earrings, debuts her canvas works for the first time.
Join Artist Jannah Farooque, for LIVE On The Canvas: A Live Interview and Talk-back.
Monday, June 17 @ 6p
Event is free and open to the public. Art work available for purchase. Interview begins at 6:30pm.
For more information about Live On The Canvas, Jannah Farooque or The 'African Cosmos' exhibit, please contact Art Blaque at artblaque@gmail.com or call 720-364-4492.
African American Interest Books and Author List
Browse a variety of new books coming soon to the Denver Public Library.
Updated monthly...check out our list for June.
Visit http://aarl.denverlibrary.org/events_exhibits/comingsoon.html for a complete list of books.
Summer of Reading is Here!
All kids welcome: from babies to 12th grade
Sign up at any Denver Public Library, for a complete list of Summer of Reading programs at the Blair-Caldwell Library, visit our online calendar or the summer of reading website.
Questions? Please contact the Blair-Caldwell Library at 720-865-2401 or email blairstaff@denverlibrary.org.