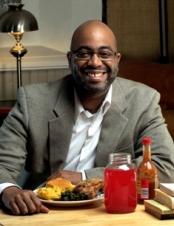 Scribes, Scholars & Storytellers Series 2013
The Blair-Caldwell Library created the Scribes, Scholars and Storytellers series to assist and uplift members of the Denver African American community that are involved in or trying to break into the published field. We strive to offer material from a wide range of genres. This year we have a awesome variety of talent. 13 Denver based scholars, poets and authors who will be sharing their creativity starting March 11 and ending on May 22. Join us for an exciting series, promising a little something for everyone!
Monday March 11th @ 6:30pm Adrian Miller
Adrian is a culinary historian and a certified barbecue judge who has lectured around the country on such topics as: Black chefs in the White House, chicken and waffles, hot sauce, soda pop, Kool-Aid pickles, soul food and Shalom Soul (the connections between kosher food and soul food). Adrian's forthcoming book, Soul Food: The Surprising Story of an American Cuisine, One Plate at a Time, will be published by the University of North Carolina Press fall 2013.
Saturday March 16th @ 2pm J.D. Mason
J.D. has been writing professionally for nearly ten years, beginning with her first novel "And On The Eighth Day She Rested" which she self-published, not once, but twice. J.D.'s work has been featured in Today's Black Woman, Essence, and Jewel Magazine. She lives in Denver, Colorado, and is hard at work on her tenth novel, the sequel to her latest bestselling book, "Beautiful, Dirty, Rich" with the sequel titled "Drop Dead, Gorgeous" is scheduled for release summer 2013. Join us as we celebrate the 10th Anniversary of J.D's first book "And On The Eighth Day She Rested". Light Refreshments will be served.
Upcoming Authors
March:
March 20th ~ Carnita Groves, Wednesday @6:30p
March 30th ~ Anitha Jackson, Saturday @2p
April:
April 3rd ~ Johari Ade, Wednesday @6:30p
April 8th ~ Rev. William Golson, Monday @6:30p
April 15th ~ Rev. James Peters, Monday @6:30p
April 24th ~ Dominique Ashaheed, Wednesday @6:30p
May:
May 1st ~ Allison Cotton, Wednesday @6:30p
May 6th ~ Lee McQueen, Monday @6:30p
May 13th ~ Leilani Henry, Monday @6:30p
May 20th ~ Dana Myles, Monday @6:30p
May 22nd ~ Charlene Porter, Wednesday @6:30p
Interested in learning about how you can participate in the next Scribes, Scholars and Storytellers series? Please contact the Blair-Caldwell Library at 720-865-2401 or email blairstaff@denverlibrary.org.
Visit http://aarl.denverlibrary.org/events_exhibits/scribes.html for the complete bio of each participating author.