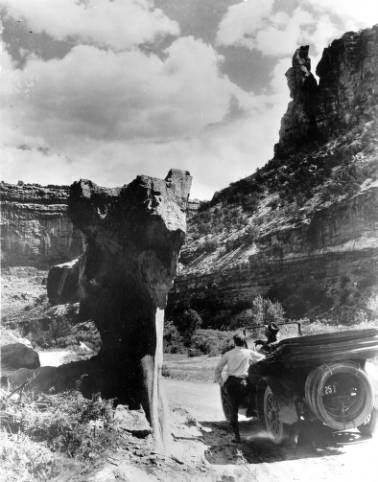 The West has many interesting place names. As Muriel Marshall says in one of her colorful histories of the Western Slope (can't remember which), the West is where Eastern naming standards wither and cowboy ingenuity takes over, at least in some places. I grew up intrigued by strange names like Rifle, named when a soldier left his gun along a creek and returned at night and found it still there. According to Maxine Benson's book 1001 Colorado Place Names, Parachute gets its name from the shape of a creek when viewed from up high, or from hunters on the cliffs above who said, "We need a parachute to get down there!" Paradox is named for the Paradox Valley, which is situated in a northwest to southwest direction, but dissected by the Dolores River as it flows in a south to north direction. Then there's No Name near Glenwood Springs.
In the adobe badlands (hills the locals call the 'dobies), the strangely shaped hills often receive evocative names, such as Pulpit Rock and Susie's Tit. Then there's Doughspoon Creek, named for a dead man found only with a dough spoon in his hand. The Uncompahgre Plateau also has plenty of interesting place names. Karo Hill was named when a ranching family bringing their summer supplies into cow camp by wagon hit a big rock, and the horrified children watched as the two big barrels of Karo syrup and their entire supply of sweets for the summer went overboard and spilled. Shit Park got its name when cowboys and Utes got together to discuss Ute hunting on the Uncompahgre, which had resulted in the deaths of a few cattle. They met for a long time and when they were done, everyone retired to heed nature's call. When making its map of the Uncompahgre, the Forest Service first sanitized the name to Nasty Park, and now you won't find the spot referred to at all. Then there's Butcher Knife, named for a lost knife someone stuck in a tree for the owner to find. The tree has since grown around it. Or Water Glass, named for a cowboy who could no longer go down flat on his face to drink from a spring in cowboy fashion, and so placed a glass on a branch. Or how about S.O.B. Hill, Rough Draw, Lightning Basin, Terrible Creek and Hell's Hole.
Equally interesting to me is how locals would (and sometimes still do) refer to place names. Instead of saying "We were up at Butcher Knife this weekend," Someone says, "We's up Butcher Knife." If someone asks where something is located, instead of saying, "It's located along Rough Draw," You simply say, "Out Rough Draw." To learn more about the 'dobies or the Uncompahgre, see Muriel Marshall's books Uncompahgre: A Guide to the Uncompahgre Plateau and The Awesome 'Dobie Badlands. If you have strange Western or Colorado place names beyond my Western Slope knowledge base, please post them here!