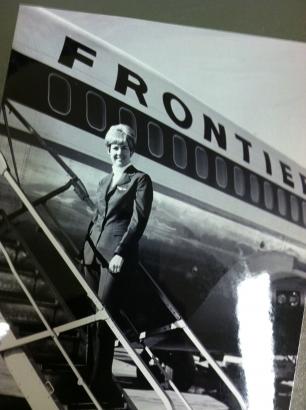 Fabulous Finds Friday: Emily Howell Warner papers
Last year I had the pleasure of meeting Emily at her home, where she talked to me about her impressive career in aviation and showed me her numerous honors and awards.
Emily developed a passion to fly after taking flying lessons as a teenager, and, in 1973, she became the first woman to be hired as a pilot by a major U.S. airline (Frontier). Three years later, she also became the first woman to receive her captain's wings. In 1986, Emily commanded the first all-female flight crew, and in 2001 she was inducted into the National Women's Hall of Fame.
The collection contains correspondence, programs, clippings, photographs related to her career as a pilot, and material pertaining to her induction into the National Women's Hall of Fame.
Donations to the Western History and Genealogy Department allow us to preserve, record, and make accessible the history of our great state and region. If you or someone you know has material that may be a good fit for our Archives Collection, please don't hesitate to contact us! Email Erin Edwards at The Professor@denverlibrary.org or call 720-865-1810.