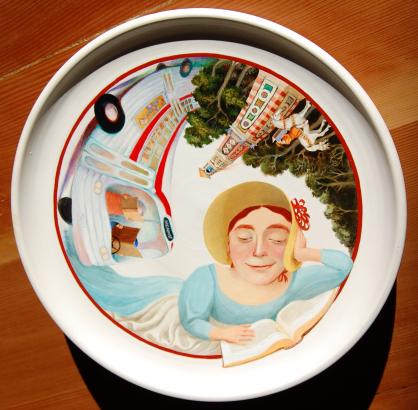 Book Plates: Not the Kind You Think
For the Second Annual Booklover's Ball in 1999, the Denver Public Library Friends Foundation commissioned twenty three acclaimed children's book illustrators to design ceramic plates celebrating libraries and reading.
A number of the artists were recipients of either the prestigious Caldecott Medal or the Caldecott Honor Book Award for Excellence in the field of children's book illustration. The variety of delightful images testifies to the top-flight talent that was engaged for the benefit of the Denver Public Library.
The plates were displayed at the Ball, and then at the Schlessman Family Branch of the Library. During some remodeling at Schlessman, the plates are being housed with the Library's art collection, which is currently undergoing a thorough inventorying and cataloging process. Now, thanks to our new ContentDM software, images of the plates have been added so people can enjoy them online, along with many other pieces from our art collection.
The Denver Public Library Friends Foundation has been giving support and assistance to the Library since 1940, through advocacy, activities and programs, fund raising, and the management of private monies raised by or donated to the Library or to the Friends Foundation.
Here's a link to the Plates; here's a link to the online part of our art collection, and here's a link to the Denver Public Library Friend's Foundation.