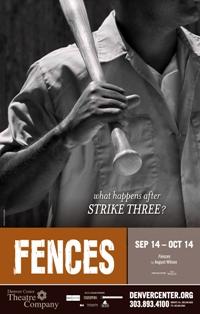 The Blair-Caldwell 10th Anniversary Kick-off
The Library will partner with area organizations to create engaging interactive displays and educational programs inspiring higher community involvement and education throughout 2013.
We are thrilled to announce that we have partnered with The Denver Center Theatre Company who will kick-off our celebration with a retrospective on the August Wilson 10-play canon, its historical significance to Colorado and director, Israel Hicks. Written in 1985, Wilson's Fences premiered at DCTC in 1990 and will kick off the 2012-13 season.
Artistic Director Kent Thompson's production will be mounted under the stage direction of Lou Bellamy, OBIE Award-winning director, accomplished actor, and scholar who has worked directly with Wilson. Visit their website for tickets and more information.
Sept 14-Oct 14, 2012
Space Theatre
Performance Times:
Tue-Thur: 6:30pm
Fri-Sat eve: 7:30pm
Sat-Sun mat: 1:30pm
And, stay tuned for more information about all the special Anniversary exhibitions, events, and programs we are planning to celebrate a decade of providing the community with an educational and cultural resource focusing on the history, literature, art, music, religion, and politics of African Americans in Colorado and throughout the Rocky Mountain West.