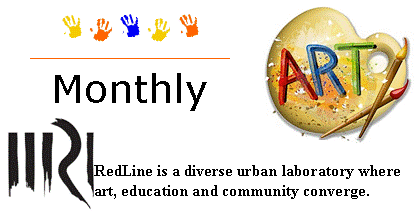 Arts and Crafty at the Blair Caldwell Library
The Blair-Caldwell Library and RedLine offer monthly after school activities for kids every first Monday of the month. For the last 6 months we have offered children of all ages fun ways to explore various forms of art mediums paired with literacy activities:
October- Sculpture @ Blair-Caldwell Library
November-Painting @ RedLine
December-Print Making @ Blair-Caldwell Library
January- Collage @ RedLine
February- 2 Day Special Event One Million Bones, Paper Mache Clay @ Blair-Caldwell and RedLine
March- Canceled due to the weather @ RedLine
April- Mixed Media @ Blair-Caldwell Library
May 6th- Sculpture @ RedLine
Each month we rotate the location so that community members can visit both the library and Redline located in the historic Five Points neighborhood. Join us May 6th for a Sculpture Activity @ Redline 4-5:30p.
Stay Tuned for our Summer Edition of Monthly Art
~Special Thanks to Nia and Damont and to all who participated in our Easter Bunny Basket Craft
For more information contact the Blair-Caldwell Library at (720) 865-2401 or RedLine at (303) 296-4448.