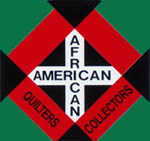 Exhibit:
January 7 - January 30, 2013
Blair-Caldwell African American Research Library
2401 Welton St
Cousins Gallery – 3rd Floor
Free and open to the Public
Award Ceremony  * Quilt Exhibit  * Community Quilt Giveaway:
Saturday, January 19, 2013
11:00 a.m. to 2:00 p.m.
Free and open to the Public
PLEASE NOTE: Library hours:
Mon. 12-8 PM/Wed and Fri 10 AM – 6 PM./ Sat 9 AM – 5 PM
Closed - Tuesday, Thursday and Sunday
African American Quilters and Collectors Guild Quilt Exhibit:
Their mission is to network with other quilters and collectors in order to share information and experience that enlighten and educate members of the community in the art of quilting. We celebrate our heritage in the needle arts through the charitable giving of quilts.
For more information, visit www.aaquiltersguild.org or call 720-220-3410.
Check out http://aarl.denverlibrary.org/events_exhibits/legacycontinues.html for a sneak peek of the exhibit.