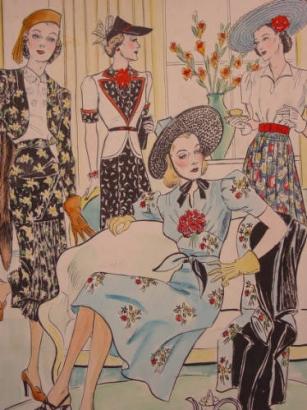 A Fashionable Life: Gretchen Weber Johnson
In July 1958, Gretchen Weber was among the two hundred newspaper women in New York City scouting out couture collections for her fall 1958 fashion report. The New York Times reported on the event, saying:
Gretchen Weber of The Denver Post numbers oil and cattle baronesses among her readers. She seeks beautiful evening dresses, superbly tailored costumes and elegantly casual clothes to be worn at mountain lodges.
Although she regularly attended fashion shows in Europe and interviewed high-profile designers Christian Dior and Yves St. Laurent, Gretchen never fell out of touch with Colorado women (admitting in 1958 that Denver was "a little slower than New York to accept trends"). She was a native herself, born in Boulder on December 1, 1901, to Adam Weber, a barber shop proprietor, and Alice Lytle Weber, a singer and voice teacher. Educated at the University of Colorado, the Parsons School of Design, and the Minneapolis School of Fine and Applied Arts, Gretchen joined The Denver Post in 1931, working as an illustrator, columnist, and fashion editor until her retirement in 1969. She kept five scrapbooks of her published fashion articles and drawings, and these gems, along with a small collection of her pen-and-wash fashion illustrations, are available for research in DPL's Western History and Genealogy Department.
After retirement, Gretchen Weber married attorney Hal Johnson in 1977 and moved to Oklahoma. She died in her Oklahoma City home on May 26, 1992, at the age of 90 after leading a very full—and fashionable—life.