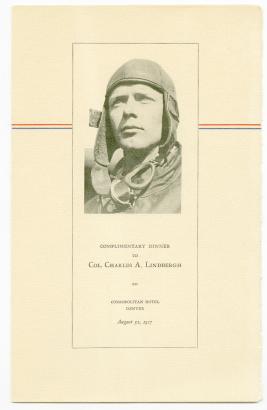 Denver's Dinner with Charles Lindbergh, 1927
According to a 1927 Denver Post article, Colonel Charles Lindbergh did not like to eat in his airplane—even during very long trips. He claimed to not desire food when flying. And besides, to eat and control an aircraft was much too difficult.
So when Lindbergh and the Spirit of St. Louis arrived in Denver at 2pm on August 31, 1927—some eight hours after taking off in Omaha—the famed aviator was presumably famished. What did the Queen City serve him?
A first course of "Fruit Surprise" followed by a consommé. A palate cleanser of celery, pecans, and olives. An entrée of broiled spring chicken with peas and au gratin potatoes. A hearts of lettuce salad drizzled with Thousand Island dressing. A feast fit for a Medal of Honor recipient?
These dishes were presented to Colonel Lindbergh and a crowd of 1,000 during a banquet held at Denver's one-year-old Cosmopolitan Hotel. Lindbergh was in town to promote U.S. commercial aviation and to urge the city to build its own airport—all while he dined on Lindbergh mousse, petit fours, and Original Manitou Pale Dry Champagne (as these were Prohibition times, the "champagne" was actually ginger ale made with naturally carbonated spring water from nearby Manitou Springs, Colo.).
Even though the pilot stayed in Denver for only 18 hours, Denverites caught a severe case of Lindbergh fever. On the morning of September 1, 1927, an estimated 50,000 people gathered at Lowry Field to wish Lindbergh well as he flew on to Pierre, South Dakota.
Lindbergh's visit lives on not only in the pages of the 1927 Denver Post (available on microfilm), but also in WHG's large menu collection, which contains the Cosmopolitan Hotel's dinner menu from August 31, 1927, along with many other gems.