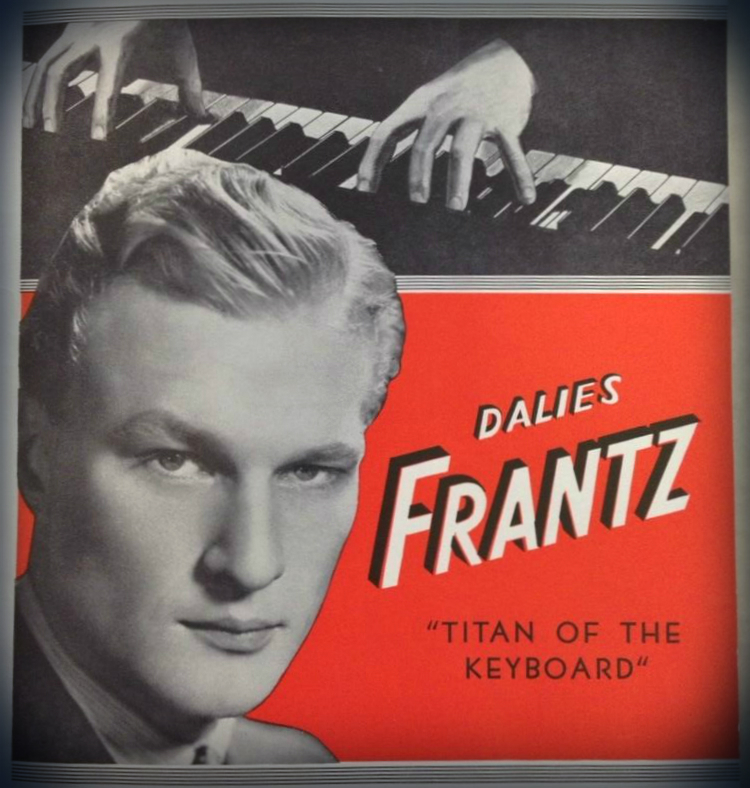 Long before the days of American Idol, Denver boasted its own musical virtuoso, Dalies Frantz.
Frantz was born in 1908 in Lafayette, Colorado, the son of William Henry Frantz and Amalia Lueck Frantz (a performing soprano). Dalies grew up in Denver in a home at 760 Downing Street, where he began playing piano at age seven. Studying under teacher Blanche Dingley-Mathews, Frantz was considered a prodigy by age nine. At age 14, Frantz won first place in a statewide piano contest conducted by the Charles E. Wells Music Company. He then studied at the Huntington Preparatory School in Boston, where he became captain of the swimming team, breaking several New England freestyle swim records.
In 1926, Frantz won a scholarship with the Julliard Foundation in New York City and was taken under the wing of famous concert pianist and teacher Guy Maier at the University of Michigan. After Frantz received a bachelor of music degree in 1930, he traveled to Europe to study with legendary pianists Artur Schnabel and Vladimir Horowitz. Frantz returned to the US, debuting with the New York Philharmonic in 1932 and the Philadelphia Orchestra in 1934. Shortly thereafter, he was signed by Columbia Concerts Corporation and traveled nationwide giving recitals and making appearances with several major American orchestras. Frantz returned to the University of Michigan to continue his musical studies. He married Martha King of Detroit in 1934; five years later, they divorced.
Frantz's notoriety and good looks landed him a contract with Metro-Goldwyn-Mayer (MGM), and he starred in three pictures: Sweethearts (1938), Balalaika (1939), and I Take This Woman (1940). He was scheduled to record the soundtrack of a biopic about  Frédéric Chopin (A Song to Remember), but the film was postponed by the onset of World War II. During the War, Frantz served briefly as an intelligence officer, but was discharged early due to medical issues.
Beginning in 1943, Frantz joined the faculty at the University of Texas Department of Music. In addition to teaching, Frantz played war-bond concerts and toured. Two months after playing Carnegie Hall in December 1945, Frantz collapsed and was hospitalized for nearly a year. Poor health would continue to plague him in the years thereafter.
Frantz continued to teach and write until his death in Austin, Texas, on December 1, 1965.
Dalies Frantz's scrapbook (WH305) of correspondence, photos, recital programs, and newspaper clippings is available for research in DPL's Western History/Geneaology Department. 
According to the Abilene Reporter News (December 2, 1965), Dalies Frantz died of a heart attack.
Hi Harvey,
I have not been able to track down any recordings of Dalies Frantz in Worldcat. I do wonder if the archives at the University of Texas, the University of Michigan, and/or the archives of Carnegie Hall hold any recordings.
Thanks for reading and sharing, Julie! Glad to hear that Dalies has such a strong place in your family memory.
Add new comment