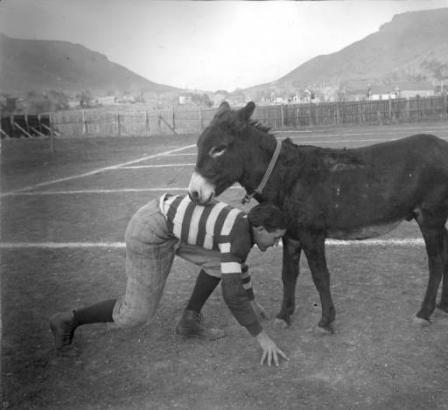 Weird Photo Wednesday, January 29th, 2014
Today's Weird Photo Wednesday is in celebration of the Superbowl this Sunday. Who is going to win? No, not the football teams...the burro or the football player? For more information about this photograph, click here. For more strange and unusual photos, see our Digital Collections.
Now, who's going to win... go Broncos!
Are you on Twitter? Help us with a friendly little wager we're having with The Seattle Public Library:
We already know who's winning the SuperBowl (Broncos!) But, who reads more? Denver or Seattle? Add your voice to the discussion on Twitter. Tweet what you're currently reading and include the hashtags #DENreads and #ReadingBowl. Every tweet counts!
Play along and help us show Seattle who has the better--and more well read--fans!