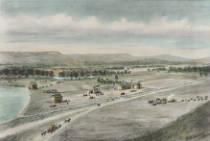 Volume III of First White Women over the Rockies edited by Clifford Merrill (The Arthur H. Clark Company, 1966) contains the journal of Sarah Gilbert White Smith along with selections from her and her husband's (Asa Smith) correspondence. The story of the 1838 trek of missionaries over the Rocky Mountains provides insight into the New England couple's trip to join Marcus and Narcissa Whitman's ill-fated Oregon settlement. Asa and Sarah Smith left Oregon Territory in 1842, six years before the massacre. Nevertheless, their words embody the purpose and struggles of the Mission.
Sarah kept her journal to record her trip across the continent for her parents. She and the other women rode sidesaddle on horseback unlike later wagon train parties. The group had only one wagon for supplies. Denver Public Library has a transcript of her journal (-M1628); handwritten by her niece (the original was destroyed). Yale University owns the great bulk of the correspondence of the missionaries, including that of the Smiths along with many of the other journals.
Recently, seven letters from Sarah and Asa Smith to their Massachusetts family appeared in the Vaile Family Papers (WH264). These letters add detail to their journey, the work of building a cabin, clearing land and growing crops in 1840 Oregon Territory (present-day Kamiah, Idaho). Fresh insights include Sarah's description of how women achieved privacy on a journey accompanied by husbands, mountain men and Indians. Asa's attitudes toward the Indians appear as he describes his frustration at their "selfish" demands for payment when they helped him tend his crops. Sarah describes the "bad hearts" of the Indians and expresses her frustration at her inability to explain her religion to the "heathens."
The letters or their typed transcriptions may be read on the fifth floor of the Central Library in the Western History Department.