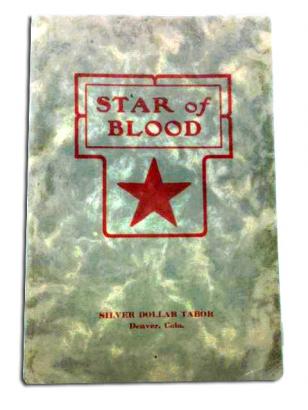 The Purple Prose of Silver Dollar Tabor
I had heard the term "purple prose" but was never totally sure of what it meant. Then, this morning, flipping through a book I was working with, I said to myself, "I'll bet this is what is meant by purple prose." Wikipedia settled it: "prose so overly extravagant, ornate or flowery as to break the flow and draw attention to itself, rather than the subject matter."
In "Star of Blood," Silver Dollar Tabor, daughter of Colorado Silver Magnate and Politician Horace (Haw) Tabor, also called "The Bonanza King of Leadville," details the life story of Allen Hence Downen, an outlaw, stage robber and murderer, in soggy, over-written text that I thought was worthy of some choice excerpts for your amusement. 
"Death reigned as monarch where'er his wild trail led, and despair, like a warning spectre followed in his wake."
"Brigandage and wholesale slaughter were the cards he nonchalantly played in his game of life. The game is not yet finished, still another round will be dealt by the master hand of human fate before the winner is at last proclaimed, before the life of Allen Hence Downen is the dower of the law or again won in freedom by himself."
After committing a murder and stealing a mule in Denver, Downen fled to San Francisico, where "In fresh fields the fugitive found fresh clover and like a bull calf plunged headlong into the rampant melee of frontier life. It was all new to him and as maddening as a scarlet banner to his teeming youth, whose frenzy lay hidden in the cool steady glance of the searching gray eyes."
He robs a stage: "The driver gazed cross-eyed into the threatening barrels of two large bulldogs and it was hands up for sure and without protest." He goes into hiding after a polite goodbye, and with the posse in hot pursuit, "the game kid bandit was too cute to submit to being lynched and laid low during the hottest part of the hunt."
After several more robberies, he gets caught and sent to San Quentin Prison in 1874, works his way up to Laundry Trustee, and then escapes wearing the Warden's Uniform.
In and out of prison a couple more times, after more robberies and house burnings, "He unearthed a wheel (bicycle) from out of the underbrush and rode into Denver, but on his way he met a farmer who was hauling a load of hay. Downen made the ignorant countryman climb down from his throne on top of the golden harvest and searched him."
He became notorious in Denver as the "Sheridan Boulevard Bandit," and "The Sand Creek Road Bandit," and in 1896 alone he made forty or fifty hauls in Denver and Brighton.
Numberless crimes, prison stints, flirtations with women, and courtroom scenes finally end with Downen in the Canon City Penitentiary serving a life sentence, and Tabor's final condemnation includes: "Study the anatomy of his head, measure from his eyes to the apex of his spine, from his mouth to that point. Do not these defective dimensions bear significance of something beyond our power of understanding?"
If you want much, much more Purple Prose of this sort, read "Star of Blood," by Silver Dollar Tabor, 1911, C364.15 D758ztab (Western History Genealogy Department, Level 5) or visit the Bulwer Lytton Fiction contest and read samples from a variety of both old and new sources.