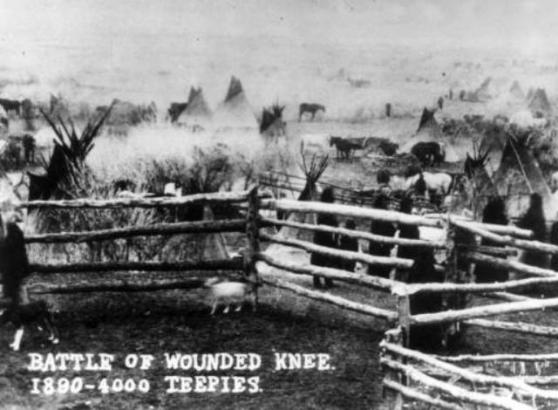 On a cold winter's day in late December 1890, the last conflict of the American Indian Wars took place. On the day before the event, a detachment of the U.S. 7th Cavalry Regiment commanded by Major Samuel M. Whitside intercepted Spotted Elk, Chief of the Lakota Sioux, and a band of Miniconjou Lakota and 38 Hunkpapa Lakota near Porcupine Butte and escorted them five miles westward to Wounded Knee Creek, where they made camp.
On the morning of December 29, the troops went into the camp to disarm the Lakota. One version of events claims that during the process of disarming the Lakota, a deaf tribesman named Black Coyote was reluctant to give up his rifle, claiming he had paid a lot for it. A scuffle over Black Coyote's rifle escalated and a shot was fired which resulted in the 7th Cavalry's opening fire indiscriminately from all sides, killing men, women, and children, as well as some of their own fellow soldiers. Those few Lakota warriors who still had weapons began shooting back at the attacking soldiers, who quickly suppressed the Lakota fire. The surviving Lakota fled, but U.S. cavalrymen pursued and killed many who were unarmed.
At the end of the fighting, 150 men, women, and children had been killed. This event is seen as a sad tragedy to this day. Search through the Library's databases for more images of the event here.