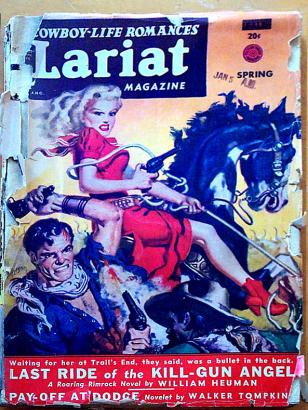 Testosterone-crazed teenaged boys in 2009 have a wide array of diversions for their spare energy - but 100 years ago, in 1909, the palette was rather more limited.
Hot days of chopping wood, stacking hay, or milking cows would finally earn the princely sum of twenty-five cents required to acquire the longed-for pages of comic escape into manly fantasy. Siren-like, the covers called the boys like nectar calls bees, and though the contents were not printed in the flashy colors on the front, the interiors depicted virile, robust cowboying at its best.
Chock full of pistols, broncos, cards, whisky, bad guys, fights, bodacious women, and galloping horses, every page is guaranteed to raise the pulse of any real man, or anyone aspiring to the era's concept of what that meant.
The Western History Department at The Denver Public Library has a number of these pulp westerns, Dime Novels, and early comics. It is remarkable that these quickly written, sensationalistic, and ephemeral potboilers have made it through the years and now rest safely in the temperature and humidity controlled vaults on Level Five of the Library.
Primary sources of cultural history, these little books tell a much deeper story than the flimsy plotlines and simple dramatic arches contained in the text bubbles in every frame.
They provide a look into the raw psychology of some of our primary cultural archetypes: the "cowboy," the "outlaw," the "hero," the "femme fatale," and the "independant woman with the quickest draw in town."
In naked innocence, these books revel shamelessly in the excitement, danger, and rewards of the Wild West, and provided many of the ideas for radio, television, and movie westerns that have followed in the last hundred years. Indeed, the latest light-sabre swashbuckling in galaxies far far away no doubt owes a nod to these early prototypes.
Comic illustrators today can take inspiration from the technical skills displayed in  bygone days - the printing in these comics looks exactly like it does in the latest graphic novel! Is that comic book artist DNA? 
As is apparent, these are in less-than-mint condition. Printed on cheap paper, they were not made to last forever. Technology makes it possible to share them widely without the wear and tear they are so vulnerable to.
If you want to see more of the Old West, c'mon up to the Western History / Genealogy Department and savor some of the real thing - 'cause we've got it!