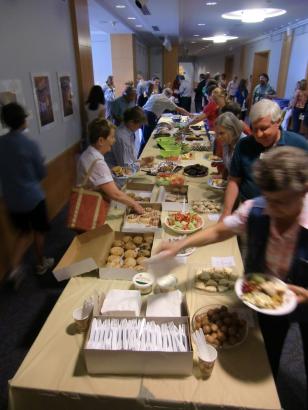 Nearly one third of the volunteers who help support the Denver Public Library work on projects in the Western History/Genealogy Department.
Thousands of hours every year are devoted to archived collection processing, creating new finding aids for genealogists, searching newspapers for obituaries and news articles, identifying photos and dozens of other tasks which the paid staff do not have time to attend to.
Each year as a thank you the staff hosts a breakfast pot luck for the volunteers. This year a cowboy singer, Roger Stone, adding a western flair to the occassion singing while the volunteers were eating.