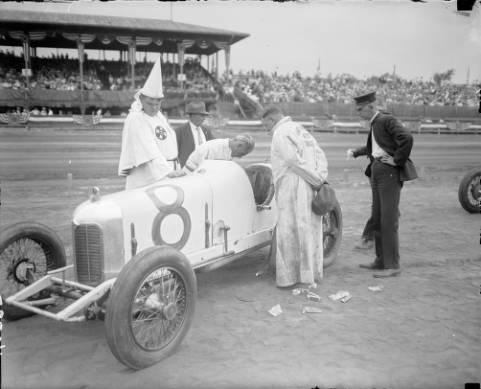 When The KKK Ruled Colorado: Not So Long Ago
The Ku Klux Klan had no presence in Colorado in 1920. By 1925, Klan members and sponsored candidates controlled the Colorado State House and Senate, the office of Secretary of State, a state Supreme Court judgeship, seven benches on Denver District Court, and city councils in some Colorado towns. Mayor Ben Stapleton of Denver and Governor Clarence Morley of Colorado were also Klansmen. The Klan was stronger in Colorado than any other state. How did the Klan gain power so quickly and absolutely?
William Joseph Simmons of Georgia called for the resurrection of the Klan in 1915. By 1920, only 5,000 or so members had joined in Alabama and Georgia. Clearly, the old organizing prejudices weren't enough to mobilize a respectable membership. The Klan developed a new recruiting message focused more on the menace that Catholics and Jews posed to the "nation's Protestant ideals" than on Blacks. According to the excellent history Hooded Empire: The Ku Klux Klan in Colorado by Robert Goldberg, the KKK posed as saviors of "Old Time Religion" and Americanism. As adherents to the Pope and their "polytheistic" religion of saints, Catholics were seen as completely excluded from such Americanism. Colorado was predominantly Protestant, and this message played well here. Conspiracy theories about a secret Catholic government of overlords abounded, much as such stories about Jews make the circuit today. The Klan also stood for fair elections, for law and order against the backdrop of Prohibition bootlegging and rampant crime, and against the loosening of morals brought by new music, new dances, and Hollywood, things the general public could get behind.
While Catholics, Jews and Blacks spoke out against the Klan in newspapers such as Denver Express, Denver's major papers were silent or neutral. The Klan infiltrated both political parties. Local Klan chapters preyed on local prejudices and divisions. Business owners proudly displayed Klan stickers, and protestant elites and working people, men and women, were quick to join. Barring a few exceptions, such as Denver District Attorney Philip Van Cise, a fierce Klan opponent, few politicians or Protestants spoke out against the Klan, allowing them to consolidate influence and power rapidly.
Strangely, part of the Klan's appeal was that it functioned as a social outing for many Protestants. In fact, members in Grand Junction flocked to the KKK not so much from prejudice, but because they thought of it as another Elk's lodge, except with hoods and weird cross burning ceremonies out in the desert. Even Dalton Trumbo tried to join because it was the hot "thing to do." In Denver, the Klan held picnics (one drew 100,000 people), auto races (a Catholic won. See photo), and had many other events. Of course, the old Klan sometimes reared its ugly head, driving Blacks from white neighborhoods and discriminating against Italians and Mexicans. Beginning in 1925, the Klan's power in Colorado waned. The Colorado Grand Dragon was investigated for tax evasion, and corruption scandals rocked Klan office holders. But for those few short years, the Klan ruled Colorado. For more information on the Klan in Colorado, visit Western History. Search our Digital Photos to see more pictures of the Klan in Colorado.