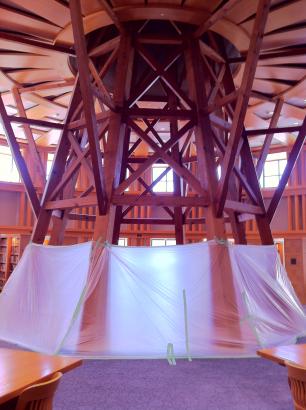 What is happening in Western History?
Christo is best known for his successful installation art projects involving draping materials in unexpected places.  His project in Central Park, NY a few years ago was met with much approval while the "Over the River" project for the Arkansas River has been stalled for years.
The Symbol of the West sculpture is currently shrouded in plastic as the wooden floor beneath is being refinished. Oh, the sweet smell of wood refinishing brings flooding back memories of Jr. High-school wood shop!
No, Christo has not been let loose in Western History and Genealogy but imagine how fantastical the fifth level would look with his signature touches!