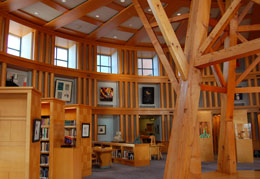 You've been to the Movies & Music Room. You've been to the Community Technology Center. But have you ever wandered up to the Western History & Genealogy Department on the fifth floor of DPL's Central Library? It is THE place to find out more about the history of your family, your home, your city, and more.
Hello DPL!
I truly enjoy hanging out on the fifth floor researching Denver's history. There is a wealth of information up there and I have spent many afternoons perusing the rare books and articles that ultimately resulted in some pretty great research papers. I'm currently working towards a history degree at Metro and was curious what sort of credentials are required to work in this department of the library?
Thanks for all you do!
Add new comment