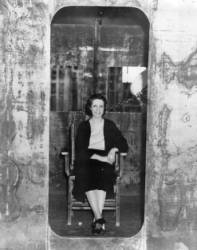 Does our lovely lady know who will be in the chamber after her?
Written on the back of our Weird Photo Wednesday photograph: "First to brethe [sic] death in the new lethal gas chamber at the Colorado State Penitentiary will be Walter R. Rep[p]in, 18, convicted at Colorado Springs Thursday of the murder of a taxicab driver and sentenced to pay with his life the week of January 6, 1934. Shown here is the we [sic] welded steel shell of the chamber made by a Denver iron works company and ready for shipment to Canon City. Margaret Fliedner is seated where Reppin will sit for the last time."
For more information about this photo, click here. For more strange and macabre photographs, check out our Digital Collections.