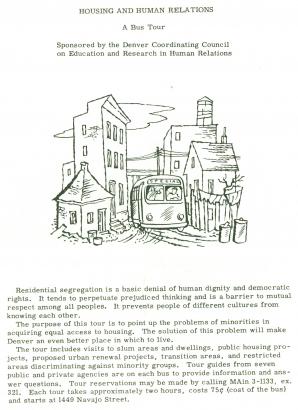 Underrated Mayor, Underrated Governor, Underrated State
Colorado enacted prohibitions against housing discrimination in 1959, the first state in the nation to pass anti-discrimination laws pertaining to private property. The Governor of Colorado at the time was Stephen McNichols. He signed the legislation. While Colorado can be proud of this law predating federal legislation, Denver and its mayor at the time, Will Nicholson, can take credit for the research and actions that led to the legislation.
Mayor Quigg Newton established the Mayor's Committee on Human Relations in 1948. In 1951, a Denver city ordinance established a permanent Commission on Human Relations. Newton's successor, Will Nicholson, who served as Denver Mayor from 1955 to 1959, appointed members to the Commission and actively oversaw their operations.
The Commission on Human Relations addressed issues such as golf course discrimination, Denver Public Schools boundary changes, city hiring practices (as well as private employment practices), Denver Police actions, morticians' and cemeteries' policy regarding burials, radio broadcasting language, segregation of prisoners in jail, swimming pools and bathing beach segregation, and Children's Theatre notices that were not sent to schools with large numbers of minority children. However, the Commission was particularly active in the area of housing discrimination in Denver.
In 1956, the Commission helped organize the Coordinating Council for Education and Research in Human Relations. The Council sponsored bus tours designed to show problems for minority groups in finding housing in Denver. The bus tours were controversial as were the pamphlets given to members of the public who participated (almost four hundred people went on the tours the first year). Nevertheless, that the bus tours impacted Denver's citizens may be seen in the 1958 legislation introduced in the Colorado Legislature to prohibit discrimination in Colorado housing.
Correspondence, memos, meeting minutes and legislation related to the struggle to end housing discrimination (as well as other types of discrimination) in Denver may be found in the Commission on Community Relation collection, WH903, and in the Will Nicholson Papers, WH1797, as well as in many other collections that also contain material related to this movement. All are available for research in the Western History/Genealogy Department of the Denver Public Library.