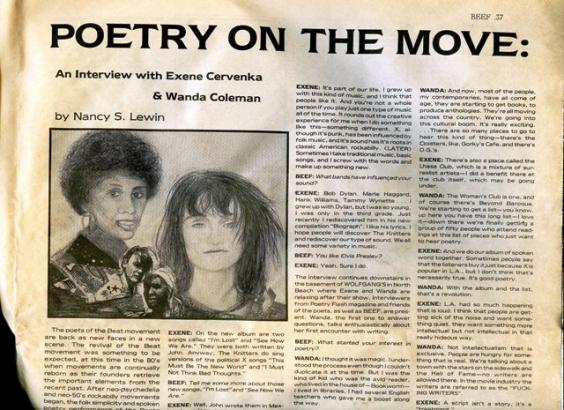 Twin Sisters: African-American Poet Wanda Coleman And Punk Icon Exene Cervenka
What do award winning Los Angeles poet Wanda Coleman and punk icon Exene Cervenka have to do with one another, and why are they being featured in a blog for the Western History and Genealogy Department?
Though called the unofficial poet laureate of L.A. by her peers, Coleman was ignored by the literary establishment for many years. She grew up in Watts and struggled to support her children through menial labor as she wrote brave poetry about race and class. Yet she thought of herself not just as a black female poet, but also as a poet of Los Angeles (considered by some in the literary community to be an oxymoron), which in and of itself made her a kind of outsider. As such, she joined the workshop at Los Angeles's now legendary Beyond Baroque Literary Arts Center. There she met Cervenka. Cervenka was a poet before she met John Doe (also a poet) and started the pioneering punk band X.
Coleman was an electrifying performer. Cervenka also captivated audiences. Coleman and Cervenka performed together and even recorded the album Twin Sisters. To the left are images of an interview with Cervenka and Coleman after a 1986 poetry performance in San Francisco. The interview appeared in the zine Beef. This issue of Beef is part of the great zine collection within the archive of Denver punk promoter Tom Hallewell.
Before her untimely death in November 2013, Coleman was recognized with many awards, including an NEA grant, a Guggenheim Fellowship, an Emmy, and Beyond Baroque's George Drury Smith Award. Cervenka's band X is considered one of the seminal bands in the history of Los Angeles and American punk rock. The history of the West comes in many forms, and we have that history in WHG. Check the DPL catalog for poetry by Coleman.