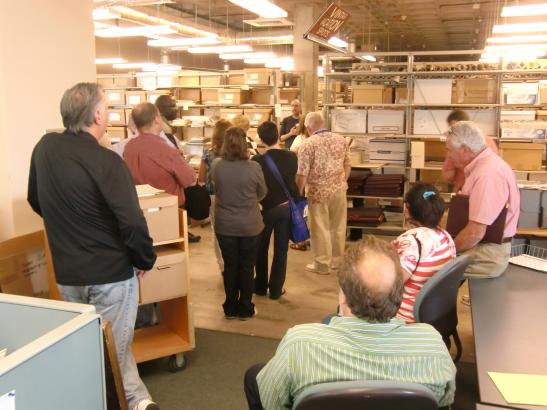 Tours introduce hundreds to the Western History Collection
One of the unique features of the Denver Public Library is the Western History/Genealogy Collection. It contains tens of thousands of items that do not circulate. These reference materials are always available to researchers because they do not leave the building.
Ranging from priceless items within the collections of individuals who have donated their papers - to rare maps that have been collected for decades. Unique flyers, photos and posters are just a part of the past that have been retained. Menus from long gone restaurants, and thousands of other items are held to provide a glimpse at the past.
Special finding aids are created to allow researchers to learn the contents of a collection in much greater detail than a catalog record allows. These online finding aids allow researchers to come to the fifth level of the central library and ask for a specific box. A few minutes later they can go through the box and pull out the specific folder with content that relates to their research.
Thousands of collections remain to be fully described, but more materials are added each year in the ongoing effort of documenting the history of the Western United States, especially Denver and Colorado.
Students, teachers, and interested groups are able to learn about the Western History/Genealogy Collection in just an hour or so. Contact the Western History Department at 720-865-1821 to schedule a tour for your group.