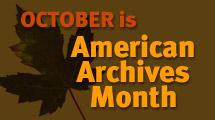 The Top 5 Things You Need to Know About Archives
1. Archives go beyond books. An archives is a place where people go to find information. However, rather than gathering information from books as one would in a library, researchers in archives often gather firsthand facts, data, and evidence from letters, reports, notes, memos, photographs, audio and video recordings, and other primary sources. In order to preserve these unique resources, archival records are not available for check-out and are stored in acid-free folders within acid-free boxes in closed stacks with temperature and humidity control.
2. Archives contain more than just old stuff from prominent people. Archives come in all shapes and sizes and contain records that document a variety of organizations and individuals (prominent as well as unknown) from the past to the present (yes, the present!).
3. Archivists preserve archival records and make sure you can find what you need. Archivists (pronounced "AR-kiv-ists" by those in the know) are professionals who make sure archival records are preserved and made accessible to researchers. Archivists typically attain post-graduate degrees and specialized training/certification that prepares them for the task of assessing, collecting, organizing, preserving, maintaining control of, and providing access to archival collections. The bottom line: archivists strive to make sure researchers for generations to come can find what they need in the archives.
4. Denver Public Library has thousands of archival collections. Located on the fifth floor of Central Library in the Western History and Genealogy department, the Denver Public Library's Archives Collection comprises material on the American West, particularly Colorado and the Rocky Mountain Region; on the twentieth-century environmental conservation movement in the United States; and on the U.S. Army's 10th Mountain Division of World War II. In addition, the Blair-Caldwell African American Research Library archives provide important documents regarding the integral role and history of the African Americans in the Rocky Mountain West.
5. Finding aids are the GPS of archives. Finding aids are detailed guides to archival collections which provide more information (including biographical/historical notes and inventories) than normally contained within catalog records. Although all DPL Archives Collections are cataloged and a brief record is available through the Library catalog, only a portion of the Archives Collection has extensive online findings aids. See a listing of finding aids with electronic access here.
 
Sources: "Say What? Talking Points on the Value of Archives," Society of American Archivists, 2007.
"What Is An Archives," Society of American Archivists, 2007.