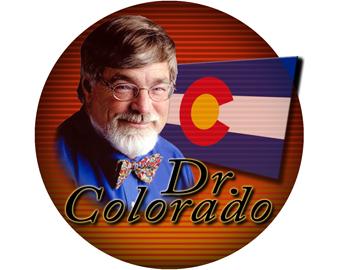 Tom The Professor, "Dr. Colorado" honored with the Denver Public Library's Eleanor Gehres Award
On September 14, the Denver Public Library will recognize Tom as the 12th recipient of the Eleanor Gehres Award, which was established in 2000 in honor of Ms. Gehres, who headed the Library's Western History and Genealogy Department for 25 years. For over 20 years, "Dr. Colorado" has been involved with the Library serving on several committees, and has donated numerous materials and photos to the Western History and Genealogy Department. He is also one of the Library's favorite customers.
 
Tom is a Professor of History and Director of Public History, Preservation & Colorado Studies at the University of Colorado Denver, where he teaches American West, Colorado, Denver, heritage tourism, historic preservation, mining and railroads, national parks, and Western art and architecture. He is also co-director of the Center for Colorado & The West at the Auraria Library. His history column for The Denver Post is a Sunday morning staple, and he has served as a historical consultant and narrator for The Discovery Channel, The History Channel, The National Geographic Channel and The Travel Channel. He regularly appears as "Dr. Colorado" on Colorado & Company on Channel 9 (NBC) in Denver and also leads walking, railroading, and motor-coach tours for various groups including The Colorado Historical Society, Colorado Preservation, Inc., Historic Denver, Inc. and The Smithsonian.
Tom received his B.A. in History and M.A. in Library Science from the University of Denver (where he graduated from the same class as the Award's namesake, Eleanor Gehres). His M.A. and Ph.D. in History are from the University of Colorado at Boulder, where his mother (a psychiatrist) and grandmother (a teacher) also completed their graduate work. In addition to accepting the Colorado Book Award, he has received accolades from The American Institute of Architects, The American Association of State and Local History, the City of Denver, Colorado Historical Society, Old House Society, and The National Science Foundation.
Anyone interested in attending the celebration on September 14 at 6:30 p.m. should contact Jim Kroll, 720-865-1820, jkroll@denverlibrary.org, for more information.
About the Eleanor Gehres Award:
The Eleanor Gehres Award honors an individual or organization that has made a significant gift, service, or scholarship to enhance the value of the Western History collection at the Denver Public Library. The Award was established in recognition of Ms.Gehres' longtime contributions and service and expansion to the Western History and Genealogy Department of the Library. She was the first recipient of the award in 2000, shortly before her death.