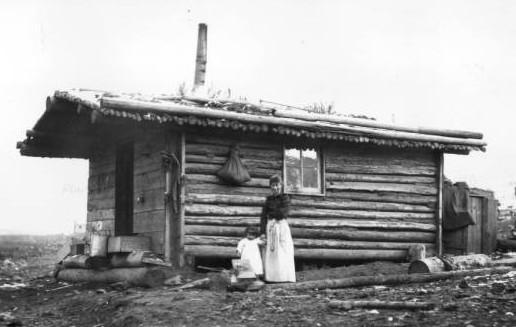 Tiny Houses - Fascinating Today, Necessary Then
Books, blogs, television shows, and web featurettes now regularly bring us charming looks at how people have solved the challenges of living in a tiny space. Builders and modular home designers have whole catalogs of tiny, stylish, efficient and practical homes with miniscule footprints. People have remodeled water tanks, railroad cars, buses, boats, and even dumpsters into postage stamp sized living spaces.
Far from a new phenomenon, pioneers of the West were expert at using local materials to create shelters that were just big enough to get out of the weather until their fortunes panned out and let them build the vast mansions of their dreams.
Our first example is a settler's cabin in Goldfield, Teller County, Colorado, when the town was still inventing itself, in probably about 1895. Looking at the simple structure, and the patient, hard working miner's wife with her daughter, it's hard to imagine that the town eventually exported more than $25 Million dollars worth of gold. One wonders if this woman and child saw any of that money.
The next image is a photograph by Thomas McKee, and is simply titled: "Hughy." This comfortable looking home has the look of being well lived in, with it's organized workbench, awning, doghouse, and a hook where a man can hang his hat. He even has a nice boardwalk in front of the entry, to keep the worst of the mud from getting tracked in. Imagine the life that unfolded under that fancy shingle roof.
The stone cabin overlooking Jenny Lind Gulch was captured in this image by Donald Kemp, and shows a spectacular view of the mountains of Gilpin County, Colorado, near the mining town of Apex. The simplicity and quiet, combined with the breathtaking scenery, would command a premium to today's beleaguered city dwellers seeking retreat. An unknown prospector built this house of local rock, and whether he went on to a mansion in Denver or to skid row, we'll never know.
The B. Ware and I. Steele Pawn Shop was one of many businesses in the mining supply town of Ironton, Ouray County, Colorado. The fabulous wealth generated by the surrounding silver mines enriched the mine owners and the support businesses, leaving the miners to live paycheck to paycheck, and sometimes having to pawn their valuables to make it to the next week, after exhausting their funds on liquor and other forms of entertainment available in nearby Silverton. Charles Goodman captured this image on September 8, 1886, and it shows the well dressed proprietors and family in front of their tiny, and humorously named enterprise.
Another of Charles McKee's photographs shows the Buckeye Cabin in the La Salle mountains of Utah, which doubled as an assayer's office. Assayers were another of the support businesses that fed off of the mining industry, analyzing mineral samples and certifying their value for the miners. This 1897 building has a deep porch covering the worktable and equipment necessary for the job, and a gold pan is suggestively positioned in the yard. The boy sitting on the porch is serious beyond his age, having no doubt seen more hard living than many adults today. Using the zoom tool, we can examine the rifles, chemical bottles, and other paraphernalia strewn about in bachelor fashion.
Finally, we have an 1893 William Gillen photograph of the S. J. Roberts house in the legendary gold town of Cripple Creek, Colorado. This image demonstrates that simple means didn't stop people from enjoying the finer things of life, and one wonders what tunes these men produced with their violin and flute. The image also provides an introduction to next week's blog, which will be on the theme of "Characters," in which we will get a good look at some of the colorful personalities recorded in our vast photo database.
If a picture speaks a thousand words, our online collection of photographs is a vast library of stories, enough to fill many an hour.
To see more of the many tiny houses we have pictures of, do a search for "cabins." A search for "miners" will also produce a long list of fascinating images.
And be sure to visit our "Tiny Houses" gallery.