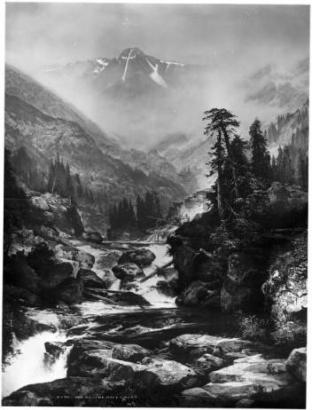 Thomas Moran and Chromolithographs of the American West. Join WHG and DAM for two events!
Join the Western History and Genealogy Department (WHG) of the Denver Public Library and the Denver Art Museum (DAM) for two events that celebrate the artistic discovery of the American West. In the late Nineteenth Century, artists and writers headed into the American West in order to explore and capture the striking beauty of our region. Thomas Moran and William Henry Jackson were two such artists. As members of Ferdinand Vandeveer Hayden's survey of the area that would become Yellowstone National Park, they sketched and photographed the West in all its splendor. Moran's sketches and Jackson's photographs so awed Congress that they resulted (or were in no small part responsible for) the creation of Yellowstone as the world's first national park in 1872. In 1873, publisher Louis Prang approached the now-famous Moran about publishing a portfolio of his work. Nineteenth Century artists were developing ways to mass produce reproductions of their work. Prang practiced chromolithography, which allowed him to produce prints on flat paper using a chemical process. Prang's publication of Moran's portfolio made Moran's sketches of Yellowstone available to the public for the first time, endearing both Moran and Yellowstone to the American public. Now you can attend two events that help capture this exploration of the American West and the artistry of Thomas Moran.
On Monday, October 7, 2013 at 6 p.m., join WHG for Chromolithographs of the West: Vivid Views of the Trans-Mississippi West, the last of our Fall 2013 Western History Lectures series Printed Views of the American West.
Also check out the DAM's exhibition Thomas Moran's Yellowstone: A Project for the Nation, October 6, 2013 to January 20, 2014. This exhibit will show fifteen of Moran's chromolithographs and a selection of his drawings and paintings. It will also show some of William Henry Jackson's photographs, illustrating how Moran and Jackson influenced one another in their work.
For more information about the above images, click here and here.