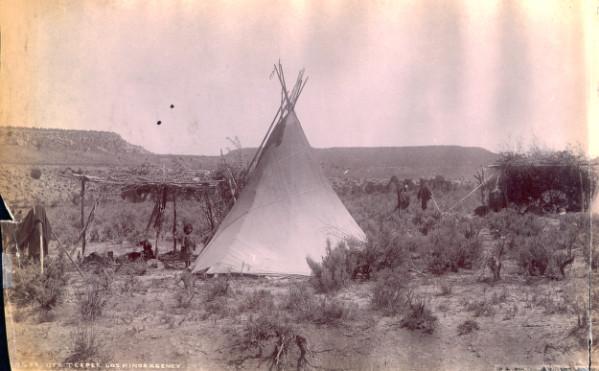 Teepees and Geodesic Domes

Clard Svenson stands in the interior of a partially-finished geodesic dome that eventually would become a theater for psychedelics in Drop City, Colorado, in Las Animas County. Light streams through the geometrically-shaped window at the top of the structure. Svenson holds a circular painting with his right hand and stands amidst other pieces of art on the floor.

Photography of John Pfahl via Nothing is New

View taken from inside a geodesic dome looking outside at people sitting on the ground in Drop City, Colorado, in Las Animas County.

View of Native American, Sioux men, they erect tepee poles in a clearing surrounded by evergreens.

via Nothing is New

Perspective of the interior of the modernist style conservatory at the Denver Botanic Gardens, 1005 York Street, Cheesman Park neighborhood, Denver, Colorado, ca.1962. The walls and ceiling of the conservatory are constructed out of cement formed into a diamond shaped latticework in the shape of a large catenary arch. Diamond shaped, convex windows fill the latticework and allow proper light penetration to the plantings inside the conservatory.