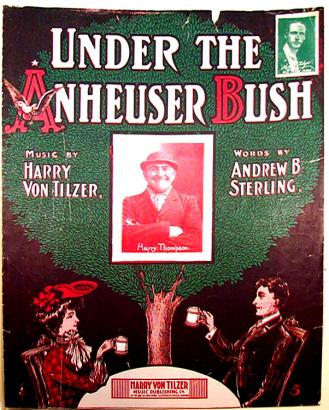 Sparkle From the Gilded Age
The simple pleasure of music brings color, humor, wit, and a light heart today as it did 100 years ago. Music inspires artists, and as today, the packaging often competes with the content for our senses.
The Western History Department's Sheet Music Collection is a treasure of almost 650 musical scores, from between about 1885 and 1950, usually for piano and voice, many of whose cover art gives cheerful expression to the silent, aged paper.
With titles like: "Baby's Laughing in His Sleep," "Gee, I'd Like to Muss You Up Just a Tiny Little Bit," or "Cupid You're a Very Very Naughty Boy," one might expect some colorful cover art.
Western themes abound; some examples are: "Dreamy Rocky Mountain Moon," "Sweet Columbine," "The Trail of the Lonesome Pine," "When it's Springtime in the Rockies," "Away out West in Wyoming," and "Out Where the West Begins."
We smile at familiar local subjects: "It's Great to Be In Denver," "Just Take a Trip out to Lakeside," "Shadows on Grand Lake," "The Singing Sands of Alamosa," "Where the Silv'ry Colorado Winds its Way," "The Ballad of Otto Mears," and "The Beautiful People of Denver."
Archaic stereotypes are revealed and depicted; the African American contribution to Vaudeville is recorded in the memes of the day with titles like: "Coon Band Contest," "An Educated Coon is Best," "Cunnin Carolina Coon," and "My Dandy Soldier Coon."
Many of the scores have covers that are quite plain - but unexpected delights pop out as one goes through the folders.
Housed for years in a filing cabinet, the sheet music has now been stored in archivally safe folders and boxes, and has a detailed index of titles, composers, lyricists, and other information. Just search CARL for "sheet music hybrid" to see the catalog record or ask a Librarian on Level 5 to see the title index.