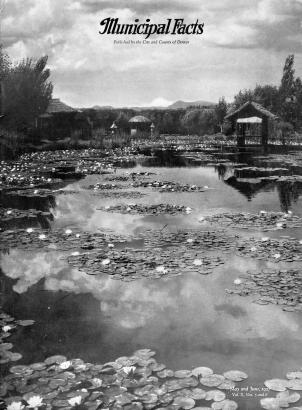 Snow Baths and Elephant Hunts...
It's 9:00 in the morning and as I sit in the air-conditioned photo lab of the Western History Department, I'm thinking that it's about time to put my sweater on.  Yes, you heard me, put my sweater on.  Even though when I walked into the Library half an hour ago it was promising to be a blistering day.
So imagine the irony when looking through some scans I came across an article from the Denver Municipal Facts'  1930 July/August edition entitled "Summer Snow Baths".  For those who don't know the Denver Municipal Facts were published by the City of Denver between the years 1909 and 1931.  These newspapers are full of intriguing articles about everything Denver.  From pictures of the City dog catcher, to exhibitions at the Natural History Museum, to the organ at the Denver Auditorium, and the funeral of Mayor Speer every issues is wonderful resource in the history of Denver.
Such as the one I was looking at just a few moments ago.  The title of the article superimposed on a picture of a swimsuit clad woman stiff as a corpse smiling really caught my attention.  Despite the obvious rigor-mortis setting in, the article in its self is very entertaining.  Excluding the full page picture of five different girls on or in snow in what was then provocative poses, the article provides the reader an insight into the ways to cool down in the summer before air conditioning.  The article it's self is pretty entertaining to read.  Just click here and you will be taken to the edition. Click on Page 2 on the left hand side of the screen.  To continue reading click on Page 3, and so forth.
If you are in for some more reading from this edition there is also an article entitled "Colorado Pioneers Staged Elephant Hunt".  I'll let you decide what to make of the article.  Just keep in mind that it is a product of its times and probably won't be as politically correct as our 21st Century culture would like it to be.
So in summary, the Municipal Facts are not only entertaining, but a good resource for any type of social, political, or cultural research on the history of Denver.  I am pleased to say that the majority of them have been scanned and are now available on the Creating Communities website.