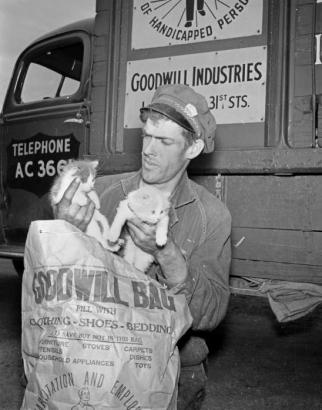 Snapshots of the Modern Past
Another of the lesser known Colorado photographers represented in our database is Lloyd Warren Rule, a commercial photographer who after serving in the Army during World War II and Korean War, and receiving the Bronze Star, became the head photographer for the Denver Art Museum.
Apparently Mr. Rule was also commissioned to make pictures for various businesses and publicity events. Among the 321 of his photos in our online collection are a wide variety of subjects, often surprising and always technically precise.
Many of the photos are so polished and carefully posed that they qualify as classic stock art. The Green Mountain Townhome pictures capture the peak of the 1960s modern style, and some of them were featured in a previous "Madmen at the Library" blog.
The garish colors, stiff fabric and super short skirts in the Columbia Savings promotional photo are quintessential commercial interpretations of pop culture, complete with Peter Max style graphics and lettering with the clever pun: "The Finanswer."
The Rule photos also catch the tail end of the WWII era, showing soldiers, war bond promotions, Civil Defense demonstrations and Cold War messages. There are numerous photos taken in hospitals, orphanages and schools, and others depict people at work in various places.
More surprises in this group are Mr. Rule's photos of farm people in Korea, showing iconic images of pre-modern rural life in a place not usually covered in our database.
View our "Acclaimed Western Photographers" entry on Lloyd Rule to learn about his life and to see a gallery of his photographs.
If you like our blogs, Like Us on Facebook and never miss one!