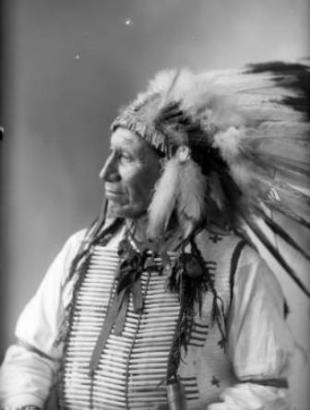 Born in Honeoye Falls, New York in 1854, David Francis Barry became one of the most famous photographers of the American West. Venturing out on his own when he was 17 years old, Barry started his photography career as a photograph apprentice to Orland Scott Goff. Together they traveled into the western United States. Once there, Barry soon distinguished himself as a master photographer.
Barry was nicknamed "Little Shadow Catcher" by the Sioux Indians. He was the first to photograph the Sioux as they surrendered.  Barry also holds the distinction of being the only photographer invited to the first reunion of the Battle of the Little Bighorn.  He also counted among his many friends: William F. "Buffalo Bill" Cody, Elizabeth (Libby) Custer - widow of Gen. George Armstrong Custer, Chief Gall, Chief Rain-in-the Face, Kit Carson, and W.S. Hart - a silent movie star.
Throughout Barry's lifetime he was able to capture some of the most exquisite images ever taken of Sioux Indians, U.S. Army officers, Indian life, and Buffalo Bill Cody and the Wild West show. He died in 1934 in Superior, Wisconsin.
Barry's stunning images speak for themselves. If you are interested in seeing more of Barry's work follow this link http://digital.denverlibrary.org/ and type in David Francis Barry in the "quick photo search" bar. Then take your time and savor some of the most incredible images of the American West ever captured.