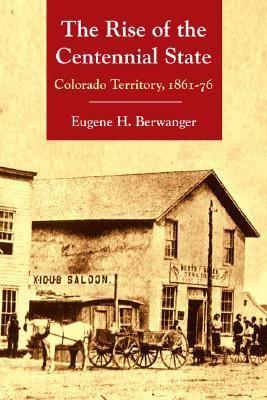 Sesquicentennial! Happy 150th Colorado Territory!
Susan Schulten, associate professor of history at the University of Denver, was interviewed last week about the sesquicentennial on Colorado Public Radio's Colorado Matters, and described for listeners the political context of territorial status, the role of disunion, and the legacy of the Civil War in today's Colorado.
Professor Schulten is also a regular contributor to the New York Times blog entitled Disunion, an ambitious project to blog the Civil War from Lincoln's election to peace in 1865, writing most frequently about maps. But her most recent post, offered last week, concerned Colorado and the West in the Civil War, and the entwined nature of slavery, expansion, and sectional crisis.
And for those of you who might want a good book on Colorado's territorial era, look no further than Eugene H. Berwanger's The Rise of the Centennial State: Colorado Territory, 1861-76. Circulating copies are available at several branches, and reference copies are available for use in the Western History/Genealogy Department.
There's more to the story of Colorado's territorial years, so join us to continue your journey!