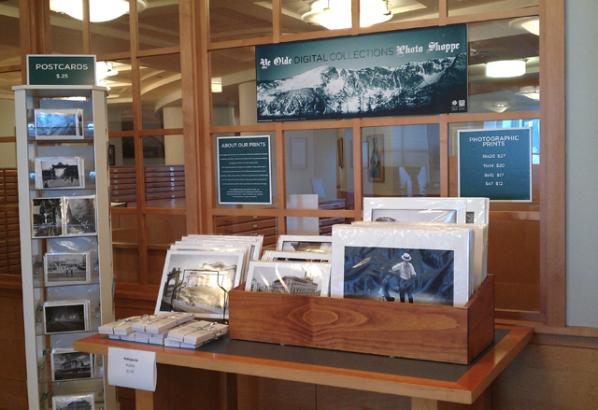 Select Photographic Prints Available NOW-- at discounted pricing!
Come to 5th Floor at Central and peruse the magnificent prints from our Historical Photograph collection!  WHG staff have chosen over sixty of our favorites from photographers such as Lewis C. McClure, Harry Rhoads and Otto Perry-- just to name a few. These images were selected for immediate print production, and our Imaging Services Lab have done an incredible job making these gorgeous prints. Our intent was to provide immediate availability of some impressive and iconic images for our customers who may want a collectible print from our collection, but may not have the time or ability to purchase from our on-line Digital Collections.
 
The Imaging Services Lab uses modern printing methods, though with a keen sense of care and treatment toward the vision of our historic photographers. There is sometimes a void to be bridged with regard to the reproduction of historical photographs. While there are many ways to 'restore' an old photograph digitally-- those approaches are not part of our mission. We approach our reproduction work from technical aspects only, in order to evoke the 'feel' that we believe was intended by the photographer. This is implemented by practicing what are essentially traditional darkroom and printing-out techniques, and any physical imperfections are left intact. Only visual elements are adjusted for our processes. Granted, this is taking a certain level of artistic license with another artist's work, but what lies at the heart of our philosophy is the goal of making a print that the photographer would marvel at and be proud of. This same principle is in place for our customers.  Many of our customers are often astounded by our ability to render such fantastic prints from century-old originals, and this work is a process that the Imaging Services crew is honored to be a part of. 
 
These prints are produced using an Epson print system, using 8 archival pigment type inks-- which helps to translate smooth tones and richness in depth of detail that even the original photographs may have lacked. While all of the prints are made with archival inks on archival media, the 'true' archival prints are the 16x20 prints, which have a much larger border around the printed area. Since paper degrades from the edges inward, the larger border is what leads to a lasting print. Independent study by Wilhelm Imaging Research declared that Epson's Ultrachrome K3 inks on their Premium Luster paper will last over 80 years when displayed under glass in normal lighting conditions! Our customers can take comfort in knowing that their purchase will look gorgeous for years to come.
 
All of the selected images are printed in formats ranging from 16x20 to 5x7 inches, so there's something for everyone's eye and budget, so come visit soon! And just a reminder that if there's nothing at the Shoppe to your taste, our Digital Collections feature thousands of items for sale in print or digital format. Search or browse the collections, and contact Coi in Photo Sales at 720-865-1818 to place your order!
 
We look forward to your visit-- hope you'll come by soon!