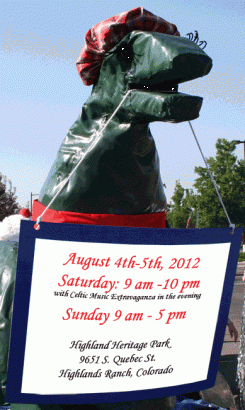 For years researchers have flocked to the St. Andrew Society of Colorado Scottish Festival and Rocky Mountain Highland Games. Saturday and Sunday 4th and 5th of August 2012 thousands of folks will descend on Highland Heritage Park at 9651 S. Quebec St. Highlands Ranch, Colorado to experience the thrill of Scotland in a Colorado playground.
The weekend will be packed with traditional celtic music, dancing, fiddle playing and lots of games.  Watch grown men toss cabers, and various weight tossing events. If you look closely you might see what a highlander wears [or doesn't] under his kilt! 
The Highlands Ranch Genealogical Society will be hosting the Genealogy Tent this year and as always books from the Denver Public Library will be made available to assist researchers in their quest for their Scottish roots.
Through the generosity of Barbara Thompson many new books have come into the genealogy collection. Of special interest to Scottish researchers is Rooted in Scotland: Getting to the Heart of Your Scottish Heritage by Cameron Taylor.
July and August are terrific times to pursue your Celtic Roots!